Understanding Textile Printers: A Comprehensive Guide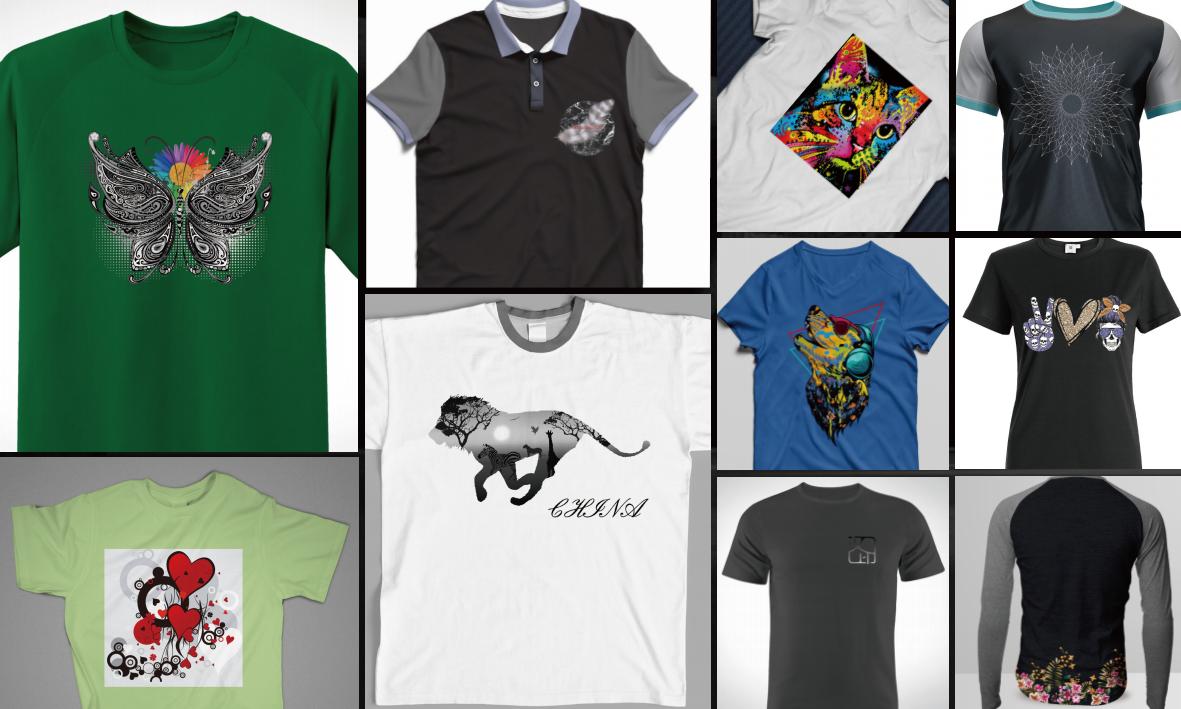 Nowadays, textile printers seem to be surrounded by many myths and stories. Especially digital textile printers have gained immense popularity in the textile industry with their distinct characteristics. 
Textile printers are machines designed to print high-quality designs onto various types of fabrics, including cotton, polyester, silk, and more, with definite dyes. In this blog, we will focus on three major types of fabric printers, including digital textile printers, dye-sublimation transfer printers and screen printers. These printers use different printing methods, and they all yield different results. How to choose one can be tricky, so let's take a closer look at their majors here.
Digital textile printers
Digital printing is a modern method of printing technology that makes prints from electronic files to create high-quality prints on various types of media such as paper, fabric, and more. For the textile industry, there are two types of digital fabric printers to consider – direct printers and transfer printers.
Regardless of being printed direct or transfer, they both excel at producing on demand and short print runs quickly. Unlike traditional printing methods, it eliminates the need for physical printing plates and many of the mechanical steps required for conventional printing (e.g., printing screens). And it does not impose any restrictions on the pattern itself, offering numerous colors and tonal transitions between the colors. 
What is more, digital printing is eco-friendly. It has been growing in popularity with designers choosing a more eco-aware process. It produces little pollutants, toxic fumes, or waste effluent.
Direct digital textile printers
Direct digital fabric printing is a process of printing on textiles and garments using specialized or modified inkjet technology. The printers just apply ink directly to the fabric without the use of transfer paper. It applies microscopic droplets of dye on fabric, ending in the making of a pattern. In short, they function like home inkjet printers and can create almost any color from a standard color palette with high precision and accuracy.
Due to the medium being overprinted, the printers utilizing this method can be divided into:
DTG printers (direct to garment)
These printers print the designs directly onto the fabrics and garments, which in this case is a finished clothing product. It gives the possibility of personalization even in small amounts. DTG is perfect if you want to print on finished products such as t-shirts, sweaters, and hats.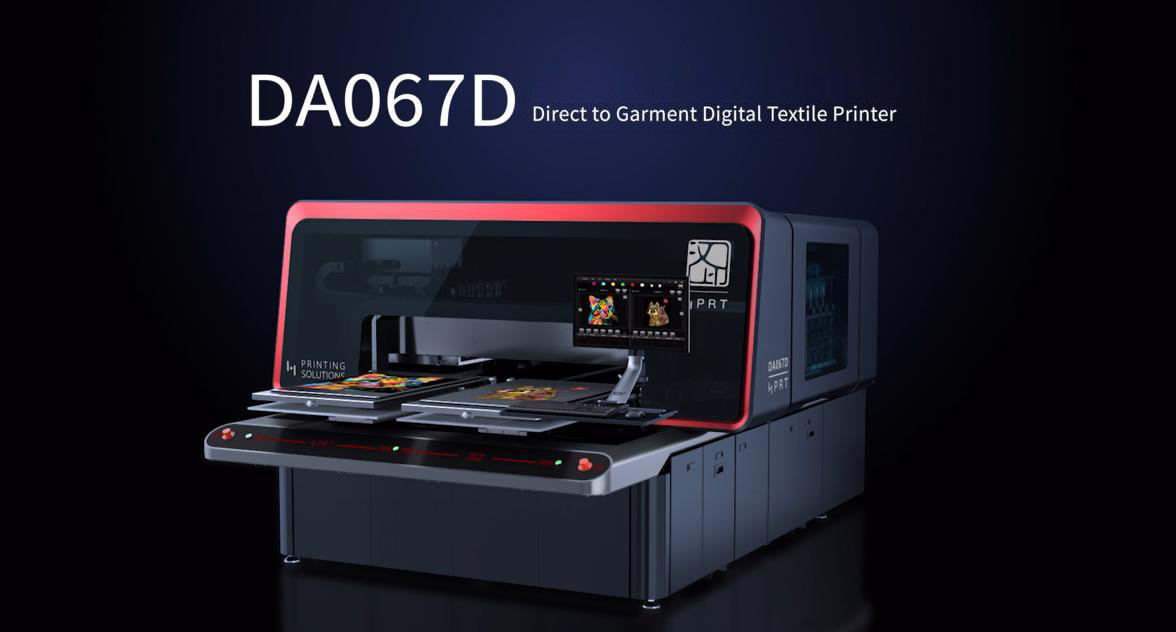 Roll-to-roll printers (printing fabric in bolts)
In practice, this powerful printer of a large scale is generally fitted with a bolt of clean, unprinted fabric. Then, in the printing process, the fabric surface is colored with dyes by the printheads. It is very suitable for long runs of flexible material as it enables a smooth workflow and faster production with less interruption. And it offers you the broad possibility of sewing from the fabric that is printed over the entire width of the bolt.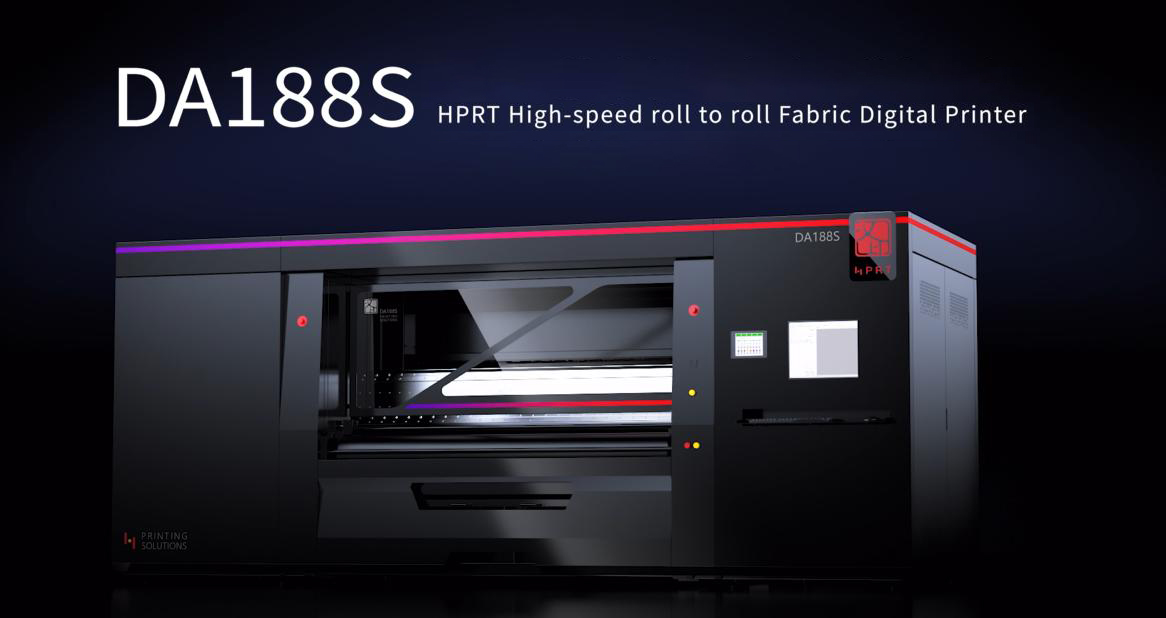 Despite outstanding features and wide application of direct digital printing, the image definition of their output is not always as sharp or clear as other fabric printing methods can offer such as dye sublimation printing. Caring for and maintaining fabrics or textiles can prove to be a difficult task as the print quality on the material may diminish with frequent washing and use over time. Besides, direct printing is really expensive with ink, equipment, and maintenance.
Pros
1. No printing screens – no initial cost
2. No color limitations
3. Allow for complex designs, ideal for personalizations
4. The number of colors and the appearance of the pattern do not affect the manufacturing cost 
5. Quick turnaround time
6. Eco-Friendly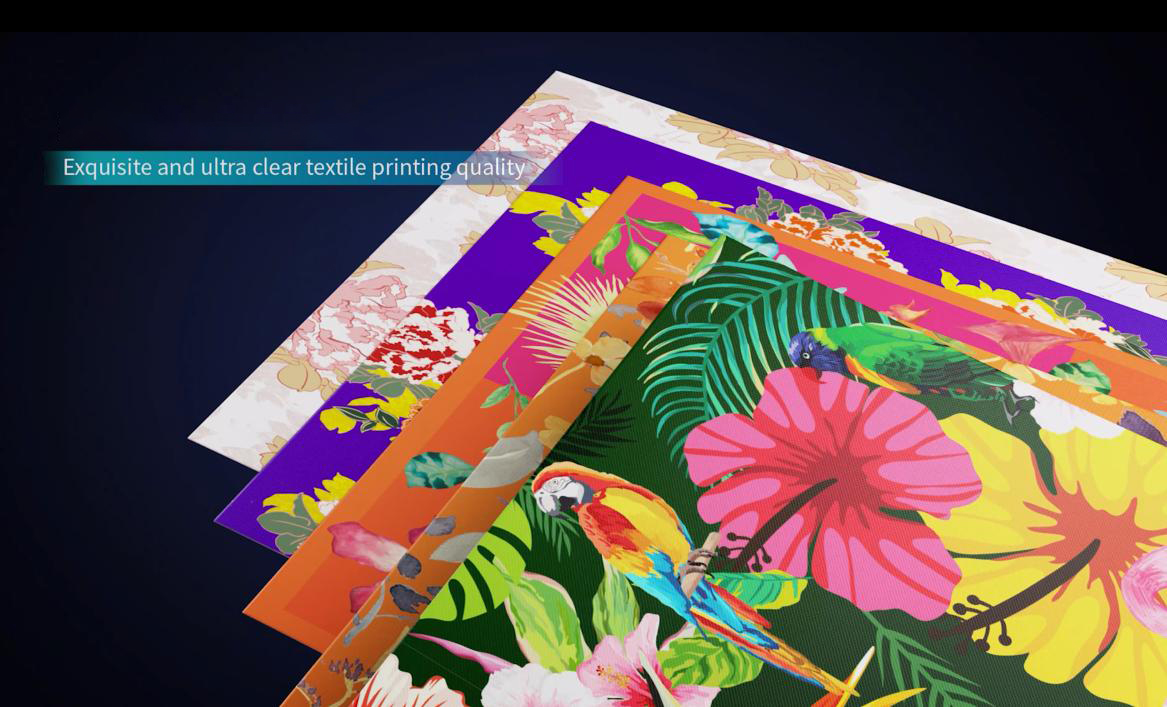 Cons
1. Image is less clear and sharp  
2. Expensive
3. Instable quality (may diminish over washing and wear)
Dye-Sublimation Transfer printers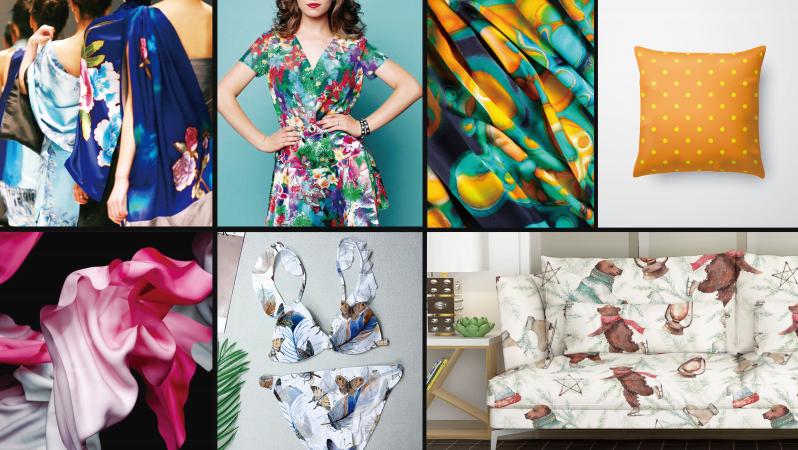 A dye-sublimation transfer printer is the other type of digital textile printer utilized by many sign and graphics shops. Instead of printing directly to the fabric, ink is first applied to a roll of transfer paper, then transferred to a substrate using a heat press or roll-to-roll calendar. The application of heat and pressure forces the ink from the transfer paper to sublimate into the fabric.
The printer is mainly used for printing on synthetic fibers and blends (which are mostly composed of polyester). Additionally, it is unsuitable for prints on natural fibers, such as cotton.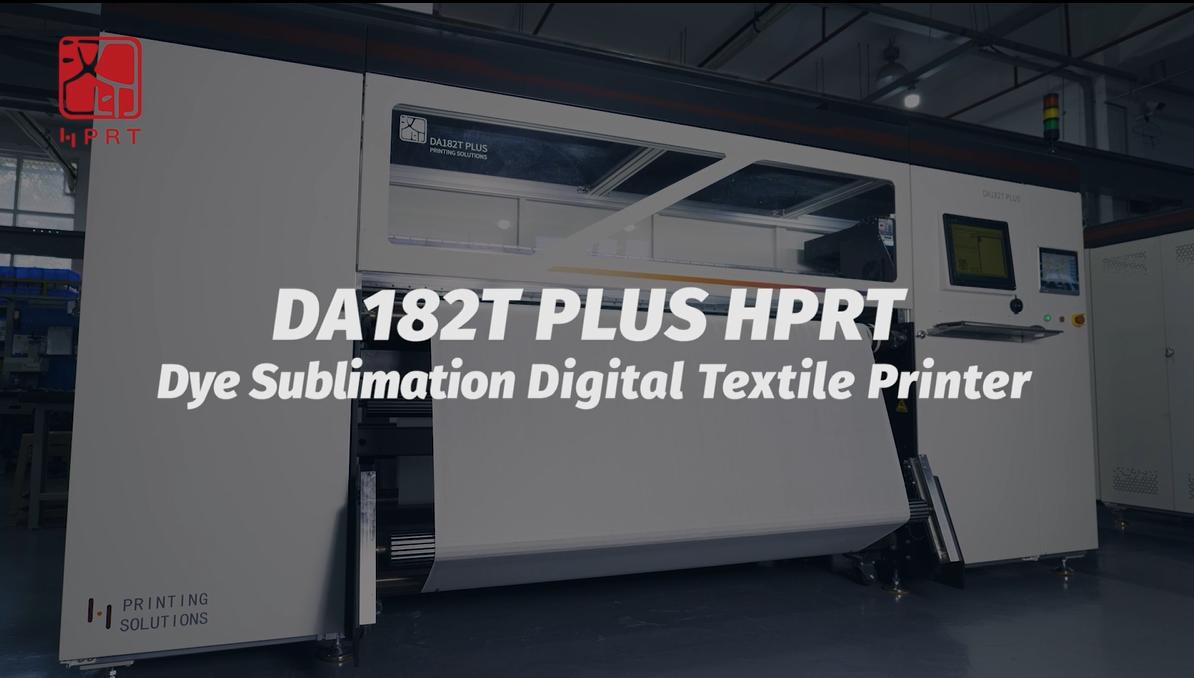 Dye sublimation offers a continuous tone, allowing for high-resolution images and incredible color fidelity. You won't worry about washing and fading problems.
Pros
1. Offer high-resolution images and high-quality colors
2. More durable than inkjet printing
3. Ideal for synthetic fibers and blends
4. Eco-Friendly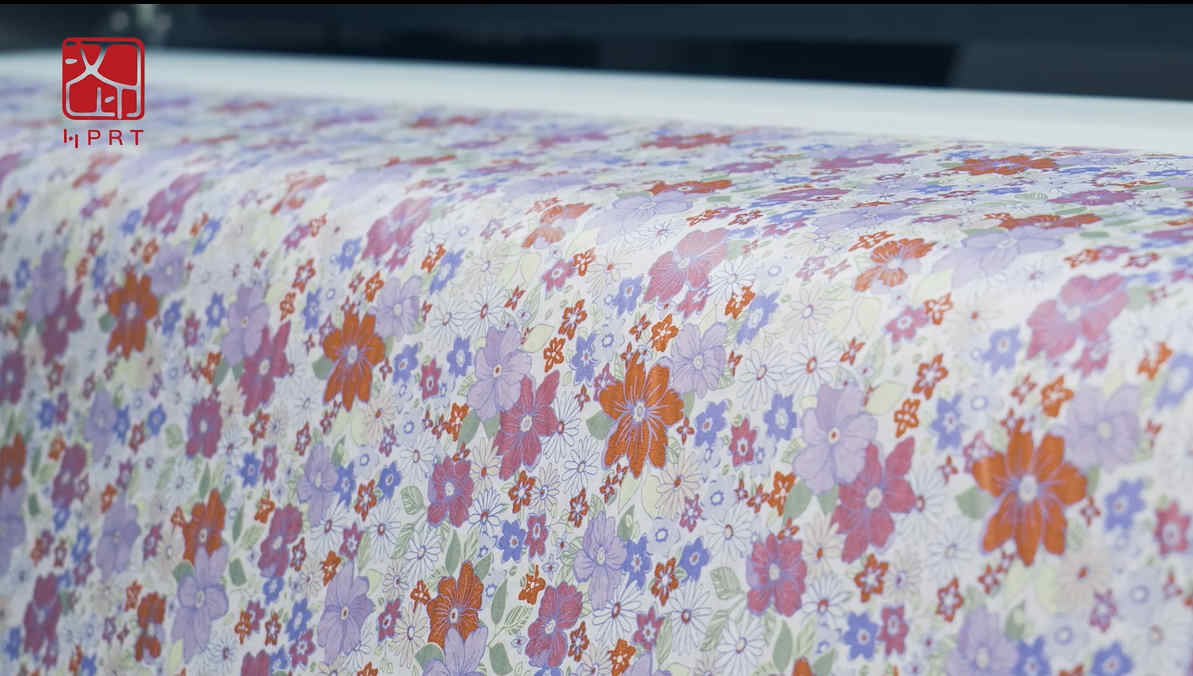 Cons
1. Fewer colors and patterns than inkjet printing
2. slower turnaround time than using inkjet printing
3. Not suitable for dark fabrics
4. Expensive, especially for larger format printers
Screen printers
Screen printing is a traditional way of printing on fabrics that involves using a physical printing screen consisting of a steel frame and a nylon mesh. The method requires the application of pressure to push the paint through the screen, resulting in a print design on the fabric. So far, industrial screen printing have been a versatile technique applied to a wide range of industries, such as fashion and signage industries. 
There are two basic types of these processes, based on that, the printers can be divided into:
Flat screen printers
The screens used by these printers are flat as opposed to circular as in rotary screen printers. They are woven mesh, made from either polyester or polyamide. These printers are most often used for printing on ready-made objects (such as t-shirts and bags)
Rotary screen printers
These printers use cylindrical screens and typical rotary screen printing machines have the capacity for up to 20 screens. The screens revolve in contact with the substrate, and the printing paste is supplied from the interior of the screens. The paste is forced out of the interior of the screen through a metal squeegee blade. 
Regarding this fabric printing method, the initial cost is high due to the substantial cost of preparing the cylinders.
Screen printers have numerous restrictions that are associated with the design that you intend to print. With a screen printer, each color is applied separately onto a distinct screen within a single machine cycle. As a result, it is very difficult (and sometimes even impossible) to perform smooth tonal transitions in print. In addition, it produces waste in the form of ink, emulsion, chemicals, and more. 
Pros
1. Excellent image reproductions
2. Ideal for silk, fit for any type of fabric
3. Cost-effective for large runs
Cons
1. One color per screen – not ideal for multi-colored designs
2. Limited number of colors
3. Very labor intensive, impractical for small runs
4. Creates a lot of waste
Which one of the textile printers should you choose?
It can be a daunting task to choose the right fabric printer for your business, you may start with selecting the right printing type. Some experts give the summary below:
1. Flat screen printers – for graphically simple prints, e.g. on T-shirts
2. DTG printers – for complicated prints, e.g. on T-shirts
3. Digital roll-to-roll printers – when you want to do low/medium-volume print on cotton, and you care about the time
4. Dye-Sublimation transfer printers - when you want to print on polyester
It is a rough guideline and the reality is far more complex. Here are a few key factors for you to take into consideration, which can help you make a wise decision.
1. Cost
2. Print quality
3. Printing speed & print size
4. Print size
5. Ink type
6. Fabric compatibility
7. Operation and maintenance
Click here to learn more detailed information about selecting the right direct fabric printer.
Conclusion
The textile business has always relied on screen printing, but the use of digital textile printing technology has greatly increased the variety of ways we can design fabrics.
With digital printing gaining popularity worldwide due to its flexibility in printing digital images on a variety of substrates, its application in the textile industry is also witnessing a growing trend. Today it is extensively used in advertisements, clothing, e-commerce, industrial applications, media, soft signage, and decor. Fabric graphic printing is just a perfect case applied in the ad industry.
Thanks to digital textile printing technology, we will move forward with greater variety, efficiency, and sustainability in the printing industry.