How to Choose Direct Thermal Barcode Printer
The thermal barcode label printer is used to print many types of barcode labels. The direct thermal printing method does not require consumables such as ribbons and ink cartridges, which can reduce the cost. Therefore, direct thermal barcode printers have also been widely used.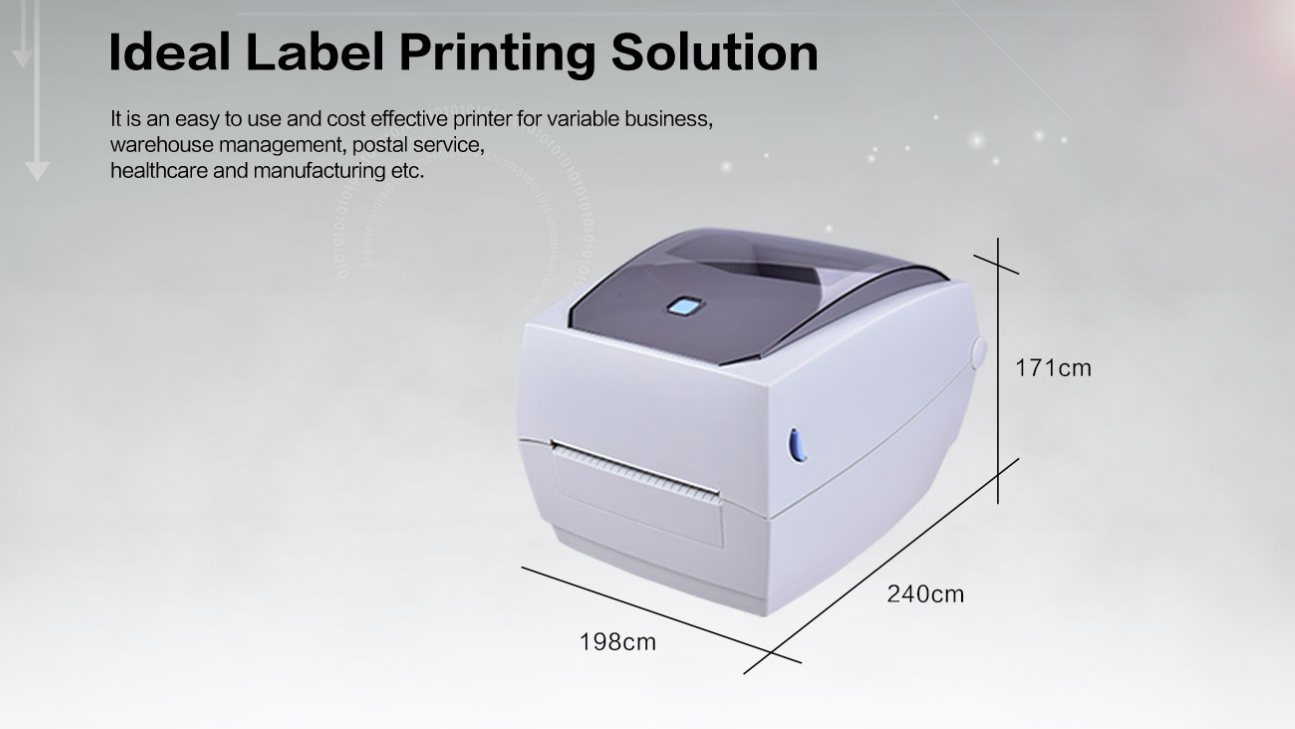 Direct thermal barcode printing principle
Direct thermal barcode printers use specially treated special thermal label paper as the printing medium. When this special bar code label comes into contact with the heated thermal print head, the leuco dye on the label paper reacts under the action of heat and turns purple or black, so the printed content can be displayed. 
A direct thermal label printer does not require ink cartridges and ribbons, so the operating costs are lower than a thermal transfer barcode printer. However, since no carbon ribbon is used, and thermal printing imaging is mainly formed by the reaction of chemical substances, the barcodes and other contents on the thermal label are easy to fade when the temperature, humidity rises or the pH of the working environment changes. Due to this, a direct thermal barcode label printer is mainly used in supermarkets, logistics, retail, and other industries that do not require long barcode label storage time.

4 factors to consider before purchasing
#1:Printer resolution

The resolution value of a printer is one of the direct factors that affect printing clarity. If the printer has a high resolution, the printed barcode will be clearer, but the price of the printing machine is relatively high. So printers with high DPI are usually used to print barcode labels with high density but small label sizes, such as jewelry tags, mobile phone labels, and electronic components labels. 
If the resolution is too low, it may affect reading due to insufficient clarity. Therefore, it is recommended that you choose a printer with suitable printing resolution according to the density of the barcode to be printed.

#2: Maximum printing length and width 

The maximum length and width of labels that can be printed by different barcode printers are also different. It is recommended that you determine the size of the barcode label printed before purchasing a printer. You need to focus on the maximum print length and width of the barcode printer to ensure that the barcode labels you need to print are within the printable range of the printer you choose.
#3: Interfaces

The barcode printer must be connected to the computer or other device to receive print requests. Common connection methods are USB, Ethernet, Serial Port, Bluetooth or Wi-Fi, etc.. Multiple connection options provide greater flexibility for integrating the printer into your work environment. Before purchasing a barcode printer, it is recommended that you first understand the interface type and connection method supported by the device you are using and select a suitable barcode printing machine.
#4: Customized R&D

Another factor that needs to consider is to decide if you need to customize. If you are an IT provider, and your customers ask for some special functions of the printers, it is recommended that you choose a printer brand or manufacturer with strong R&D capability for cooperation.
HPRT is a professional barcode printer manufacturer, integrating R&D, manufacturing, and sales. We have been dedicated to the printer industry for more than 18 years and can make custom printers based on your requirements.

If you have any questions about barcode label printers, please leave us a message, we will provide you with professional barcode label printing solutions based on your specific needs.