HPRT Delight Industrial Barcode Label Printer Overview
HPRT Delight is a 6-inch wide-format industrial barcode label printer. It is mainly used for heavy-duty barcode label printing in industrial scenarios. HPRT Delight can be used in dusty and high humidity harsh environments. This industrial printer adopts a variety of advanced configurations and has the advantages of dual-mode printing(direct thermal and thermal transfer), large machine storage capacity, intelligence, and ease of use. It can print labels in warehouses and production lines and various industries. Also, this industrial barcode printer can replace ordinary barcode label printers to print barcode labels as required.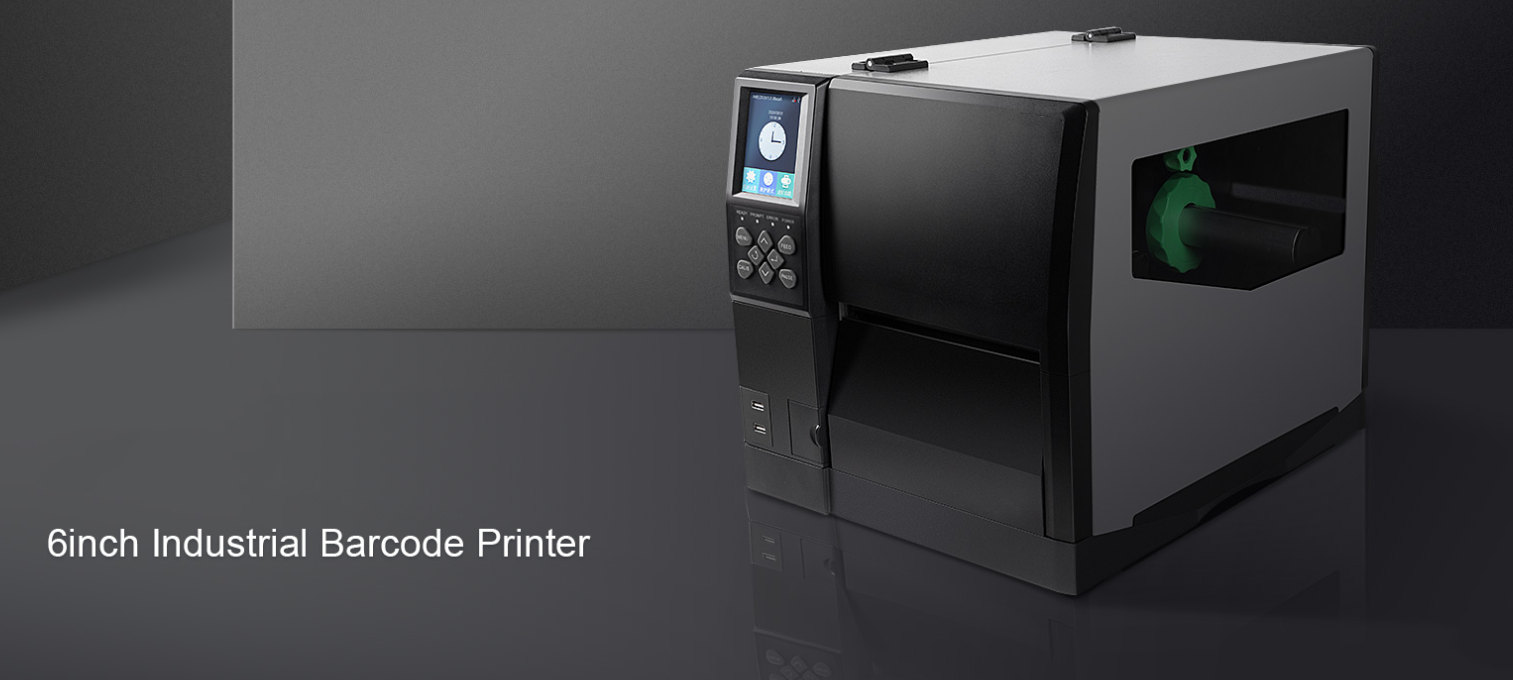 HPRT Delight main features
Dual-mode printing to meet a variety of printing needs
HPRT Delight industrial barcode label printer can print labels by direct thermal printing or thermal transfer printing. It can print on continuous paper, seam label paper, black label paper, perforated paper, environmentally friendly thermal label paper, super coated paper, PP/PVC/PET/BOPP coated label paper, synthetic fiber label paper, textile belt, and many other media.
Large storage space
The HPRT Delight industrial-grade label printer has a built-in advanced chip, which has 512MB memory, 256MB flash memory, ARM9 32-bit processor. The large storage space for data information helps you improve printing efficiency and avoid being forced to print multiple times due to insufficient memory.
Color touch screen, easy to operate
The HPRT Delight industrial barcode label printer is equipped with a 3.5-inch color TFT LCD touch screen with a screen pixel of 320 × 240. The screen has multi-function keys that can be operated on the touch screen. At the same time, there are operation keys and USB HOST at the bottom of the screen to help you easily Realize offline operation to better meet your printing needs.
A variety of communication interfaces can match different devices
Delight has various types of communication interfaces. The standard interfaces include a B-type USB port, 3 USB HOST ports, Ethernet port, 9-pin serial port, 26-pin parallel port, D-sub 15-pin labeling Computer interface, WiFi, and other optional interfaces.
Automatic detection function to ensure efficient use
The sensors of the Delight industrial barcode printer are equipped with movement detection, ribbon exhaustion detection, media exhaustion detection, thermal print head over-temperature detection, label positioning detection, motor over-temperature detection, etc. When the above error occurs, the machine will automatically detect the situation and issue a prompt to the user, so that the user can deal with it in time and effectively ensure working efficiency.
Machine parts are easy to replace to ensure user experience
The thermal print head of this industrial barcode printer can automatically identify the print heads with specifications of 203dpi and 300dpi, and can also automatically configure the printer without setting up a PC. In addition, the printer head is modular, and users can easily replace the print head module with only two screws.
HPRT is a professional manufacturer of industrial barcode label printers. If you need to inquire about printer solutions, please leave us a message and we will reply to you within 24 hours.