A Comprehensive Guide to Finding the Right Handheld Barcode Printer
The tide of barcode printing technology is washing over industries such as logistics, warehousing, healthcare, electronics, retail, and jewelry, transforming the way they operate. Picture this: a courier at your doorstep taps his smartphone a few times, and "click," a handheld printer churns out a shipping label in an instant. This nifty device, a handheld barcode printer, has made its mark, dazzling the industries of express delivery, shipping, and warehousing. But how do you choose one that fits your needs best among the myriad options available? Don't worry, let's unravel this puzzle together.
1.Determining the Use Case and Barcode Type
Handheld barcode printers are typically divided into commercial and industrial categories based on the varying requirements of different applications. Commercial barcode printers are designed for office spaces and small-scale barcode printing needs, like asset management tags and file labels.
On the other hand, industrial barcode printers are engineered for large-scale printing and sustained use in harsh environments. They features sturdy metal components and high-quality print heads for improved durability and stability. Plus, they usually come with advanced hardware configurations to meet complex printing tasks.
When choosing a barcode printer, it is crucial to consider the types of barcodes it can handle. Can it print both one-dimensional and two-dimensional QR codes? Is it compatible with various barcode standards such as EAN, Code 128, UPC, and others?
The HPRT HM-T3 PRO mobile barcode printer is a high-performance, cost-effective industrial-grade barcode printer. It employs a high-performance ARMCortex-M7 processor, has low power consumption, strong processing capabilities, and supports both CPCL and ZPL printing protocols. 
It can print a variety of 1D and 2D codes including UPC-A, UPC-E, EAN8, EAN13, CODE128, and CODE93. This industrial-grade printer is perfect for high-intensity and high-precision printing tasks in warehousing and logistics.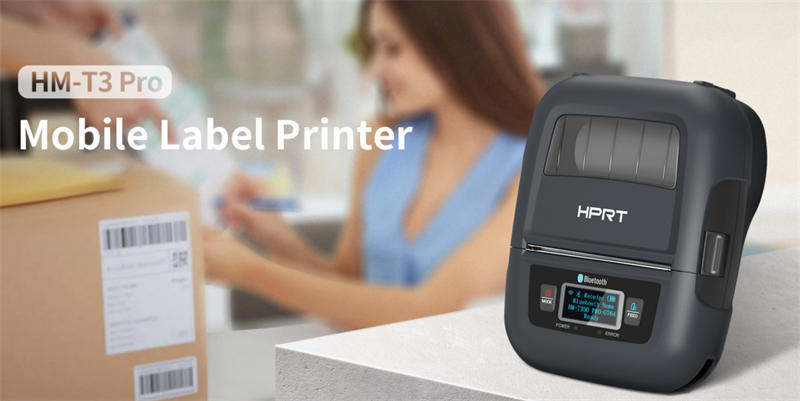 2.Evaluating Print Speed and Resolution
Portable barcode printers mainly come in two resolutions: 203dpi and 300dpi. If high-fidelity printing is needed, such as for jewelry or electronic components with dense barcode information, a 300dpi model is advisable. Otherwise, a 203dpi model will suffice for most situations. Industrial barcode printers generally offer faster print speeds, and the HM-T3 PRO is capable of producing labels at a swift rate of 80mm/s, effortlessly printing shipping labels, warehouse, and retail tags without any hitches.
3.Considering Storage Capacity
When buying a portable barcode printer, the size of the storage—both RAM (Random Access Memory) and Flash—is often overlooked, especially by those who intend to buy an industrial-grade printer. If you need to handle complex print jobs or store a large amount of permanent data (like complex label designs or large font libraries), you may need more substantial RAM and Flash.
The HPRT HM-T3 PRO thermal barcode label printer has a RAM of 32MB and a Flash of 256MB. Its large storage capacity supports vector font printing, allows for 80mm/s high-speed printing, and the resulting printouts are clear, accurate, and easy to scan.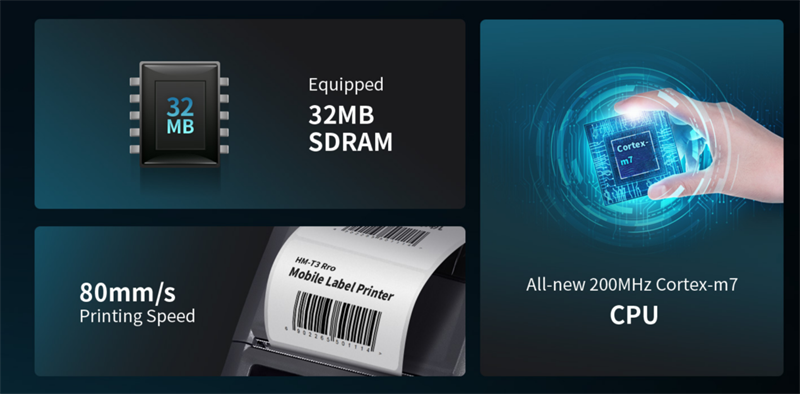 4.Checking Battery Life
One of the key considerations when purchasing a portable barcode printer is the battery life. A powerful battery promises less frequent charging, thereby enhancing work efficiency. This is especially vital for mobile workers like couriers or field workers.
The HPRT HM-T3 PRO industrial thermal barcode label printer comes with a 7.4V/1800mAh high-performance lithium battery, ensuring robust battery life. Moreover, this printer supports power bank and car charger, allowing users to charge anytime, anywhere, extending battery life, and preventing power outage from disrupting work.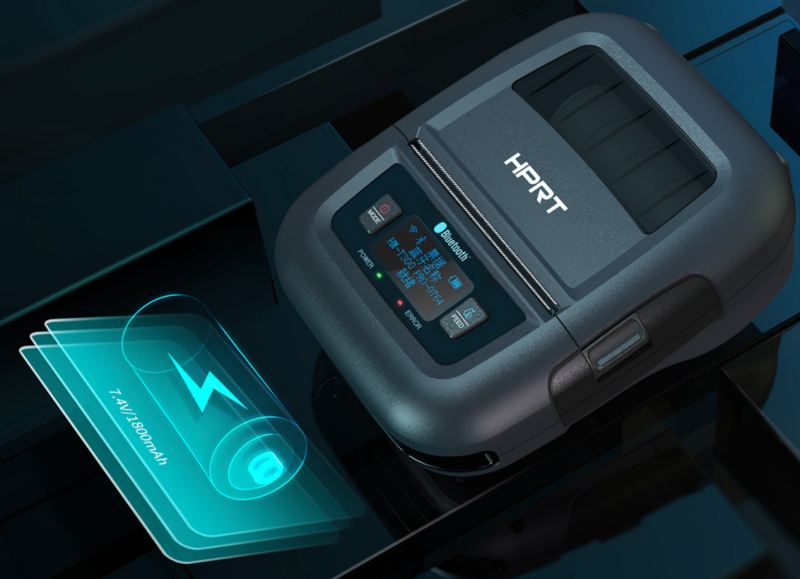 5.Examining Connection Options
Connection options for portable barcode label printers usually include WiFi and Bluetooth. If your workspace is a large warehouse or requires moving around a lot in an office building, a WiFi-enabled device is a wise choice. 
WiFi is a wireless network technology with widespread application and can cover larger areas. This minor adjustment makes the statement more fluid.Moreover, WiFi's data transfer speed is relatively fast, suitable for applications that need a significant amount of data transfer. The HPRT HM-T3 PRO comes with Bluetooth as standard, but you can also opt for a WiFi version to meet broader data transfer and printing needs.
Bluetooth, on the other hand, is a short-range wireless communication technology, typically with a range of about 10 meters, and is suitable for close-range device communication, especially when paired with smartphones. The HPRT T260L series Bluetooth label printer can easily and quickly pair with smartphones. Paired with HPRT's free barcode generation and label editing software, users can create personalized labels using a plethora of preset templates. With the ease of Excel data import, batch printing has never been more convenient.
6.Assessing Ease of Use
The convenience of a handheld barcode printer hinges on two aspects: the portability of the product design and the user-friendly nature of its operation. The HPRT HM-T3 PRO handheld barcode label printer comes with a 1.3-inch OLED display, which offers a user-friendly interface. you can easily navigate through menus and make selections, ensuring swift operations.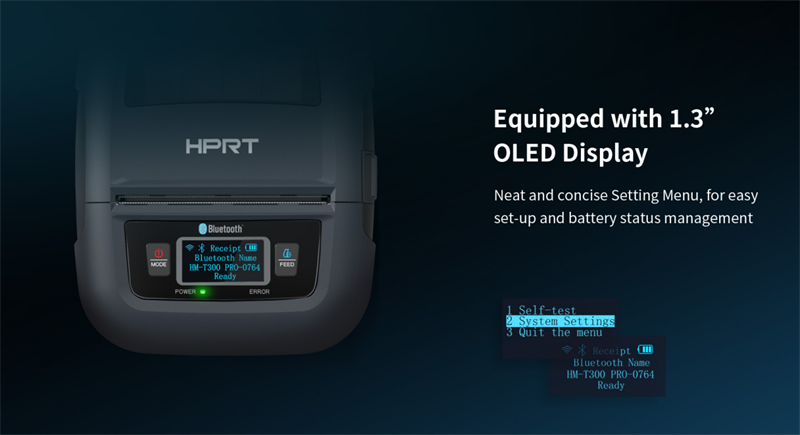 The widespread application of barcode technology has undeniably streamlined our lives, ushering in an era of convenience and efficiency. To fully harness the power of this technology, it is vital to choose the right tool. Whether you operate in industries such as electronics, logistics, warehousing, healthcare, retail, or jewelry, HPRT provides products tailored to meet your specific needs.
Committed to offering comprehensive barcode printing solutions across various sectors, HPRT stands at the forefront of innovation. Opting for HPRT means choosing professionalism, efficiency, and reliability. Together, let's step into a future infused with intelligence, sharing in the convenience and joy brought about by advancements in technology.