The Top Thermal Barcode Printer for Small Businesses and Retail Stores
Thermal barcode printers, with their distinct advantages of low-cost and high-quality printing, offer an efficient, economical, and reliable printing solution for businesses and individuals alike. These printers have become the go-to devices for printing a variety of retail labels and managing inventories. In this article, we will explore the wide-ranging applications of the HPRT SL32 Series 3-inch barcode printer through a series of vibrant industry examples. By the end of this reading, you will understand why this thermal barcode printer is unquestionably the best investment choice for your small businesses and retail stores.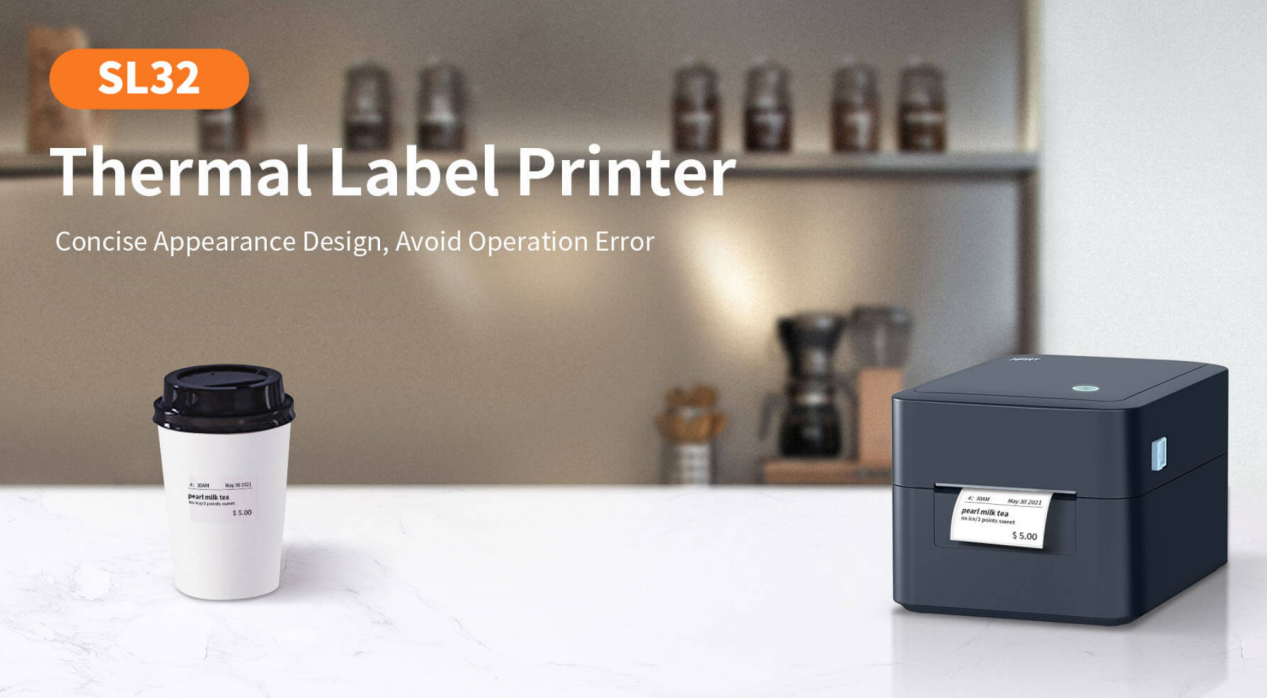 About Thermal Barcode Printers
There are two distinct categories of thermal barcode printers: direct thermal and thermal transfer. In this article, our focus will be on direct thermal barcode printers, which employ thermal technology for printing purposes. These printers precisely control the temperature and movement path of the thermal print head to print images and text onto thermal paper. So, what makes thermal barcode printers so advantageous that they've become a staple in commercial applications? Let's delve into this.
1.No ink or ribbon required: One of the most important features of thermal barcode printers is that they do not require ink or ribbon. They only use thermal paper during the printing process, replacing traditional ink cartridges, which significantly reduces costs.
2.Low maintenance: With fewer replaceable parts and a simple mechanical structure, thermal printers are less likely to fail, thereby reducing maintenance costs.
3.Energy-efficient: Thermal barcode printers consume less energy compared to traditional inkjet or laser printers. In the long run, this could result in substantial savings on electricity bills.
4.High-efficiency printing: These printers are known for their fast printing speed. Faster printing reduces the time spent on printing tasks, thus increasing efficiency and lowering labor costs.
1. High precision: Barcode recognition relies heavily on the accurate distribution and width-to-length ratio of black and white stripes. Any errors could lead to scanning devices not recognizing them correctly. Thermal printers avoid such barcode reading errors by precisely controlling the heat, ensuring that the position and size of each printed element meet preset requirements.
2. Clear and easy-to-read print results: Labels produced by thermal barcode printers are typically clear and easy to read. If you require higher printing precision, for example for jewelry labels or product labels, you can opt for a 300dpi thermal barcode printer. Used in conjunction with a barcode scanner, this option makes operations more convenient.
3. Customizable and expandable: Thermal printers offer various customization options. You can easily adjust the guide rail width to print labels of different sizes and types. Additionally, you can create customized barcode labels using label editing software provided by printer manufacturers, which offers a wealth of templates. By adding your brand logo, slogan, various element symbols, text content, and QR codes, you can create customized barcode labels.
HPRT is a professional system printing solution manufacturing enterprise specializing in the production of barcode label printers, scanners, portable photo printers, digital textile printers, and other devices, as well as the development of multi-platform drivers and embedded applications. 
In the realm of barcode printing, HPRT offers a broad range of high-quality portable, desktop, and industrial barcode printers designed to meet the varied needs of different user groups.
For small business and retail shop owners, the SL32 series direct thermal barcode printers with its superior cost-efficiency and multifunctional capabilities are bound to exceed your expectations. Let's see how the HPRT SL32 masters multi-field label printing.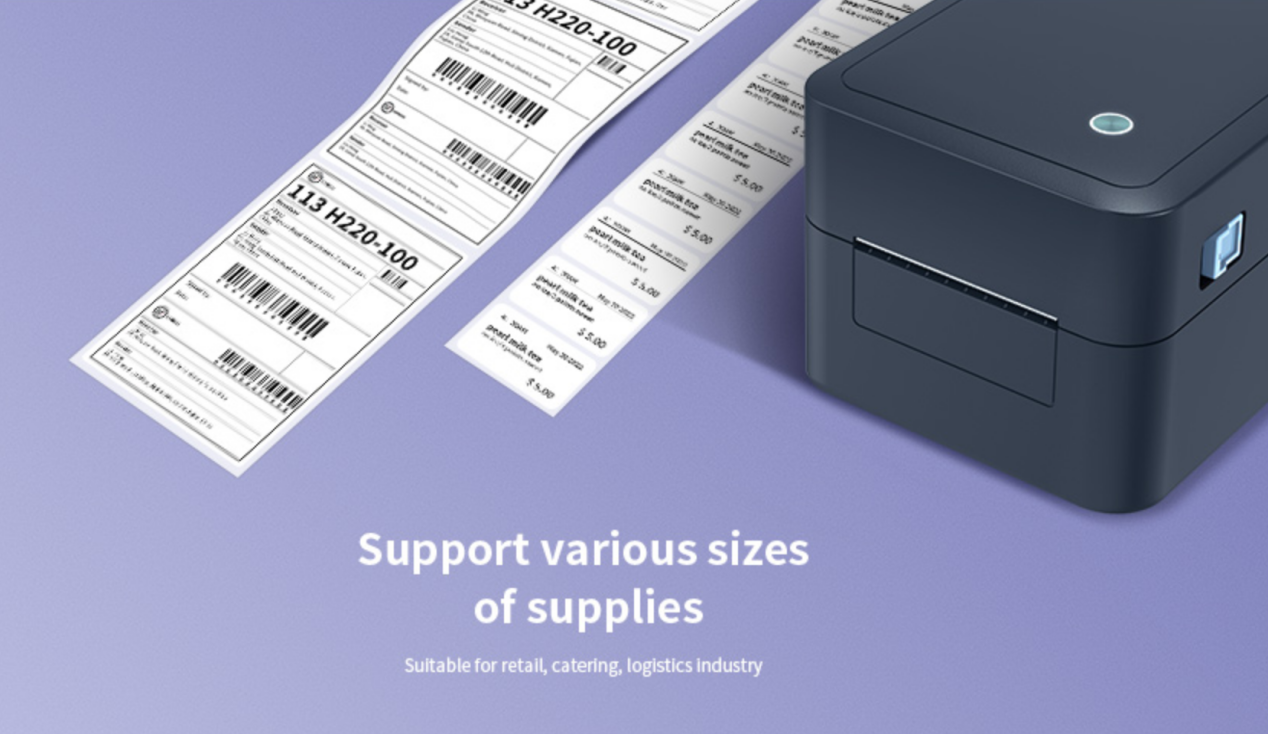 Diverse applications of thermal barcode printers in the Small Businesses
When new stock arrives at clothing stores, they often already come with manufacturer tags, which include manufacturer information and pricing. Stores need to attach tags with their logo and correct pricing before putting them on sale.
HPRT offers all users a free label editing software - HereLabel, compatible with all of its printer models. With this software, whether you are using a computer or mobile phone, you can easily add logos, graphics, barcodes, and QR codes using a multitude of preset templates. Additionally, the software's Excel data import feature allows for batch printing of clothing barcode labels.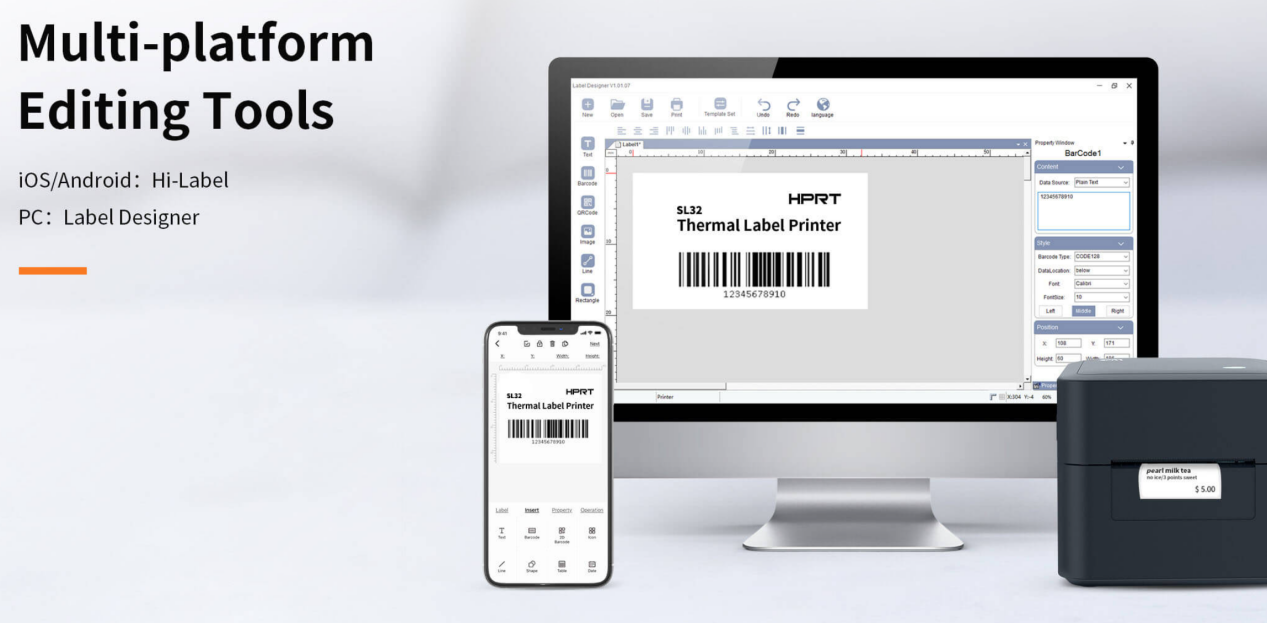 The SL32 series barcode printer's ultra-high-speed printing capability of 180mm/s allows for efficient processing of incoming goods and speedy arrangement of products on the shelves.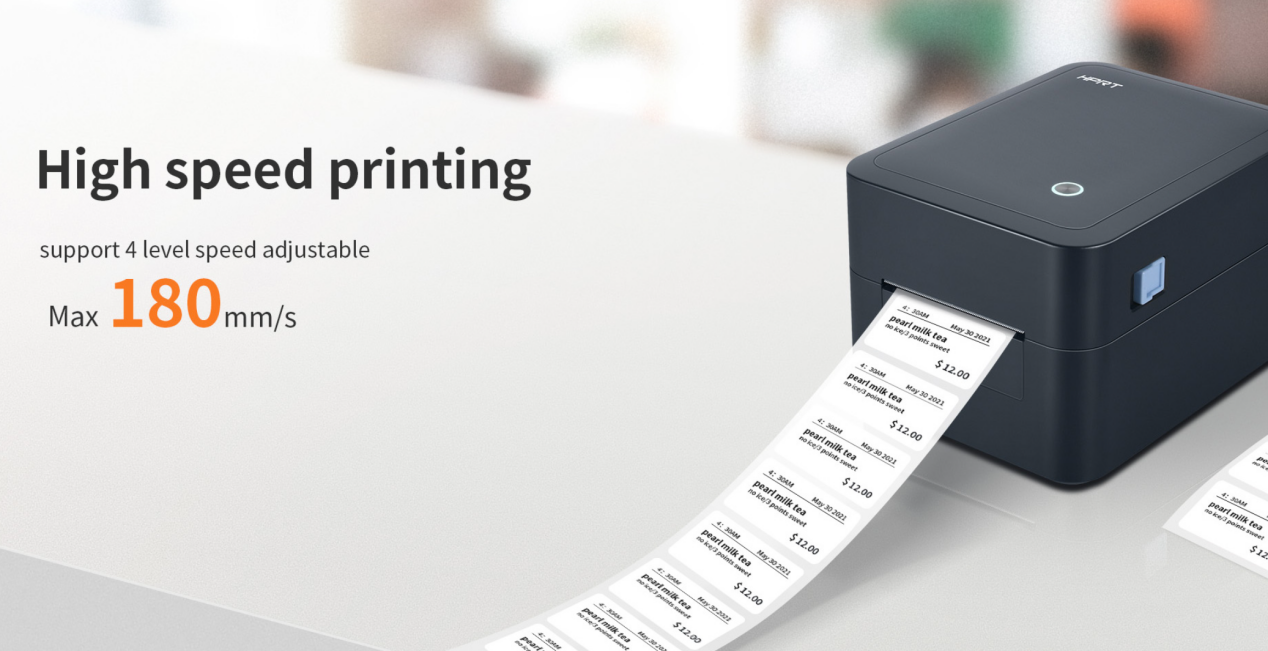 The ISBN of books can serve as their barcode. However, some small or second-hand bookstores might have their classification or pricing system, requiring a tool for custom label printing on each book, and that's where the HPRT SL32 thermal barcode printer comes in handy.
Equipped with an anti-stick paper design for the print head, this printer ensures a smooth print process free from paper jams. Its precise barcode printing is also handy for smooth operations when using a barcode scanner for inventory in and out. It supports multiple barcode types, including Code 39, Code 128, EAN. By adding a logo and other elements, you can create eye-catching customized labels for your books.
The SL32 series desktop barcode printer is not only used for printing labels but also effortlessly handles receipt printing. Its maximum print width is 80mm, which allows for ample space to include a wealth of text content and promotional information. This dual functionality means you can seamlessly switch between tasks, catering to the diverse needs of your business with less costs. 
Deli and bakery items are made on the spot and usually don't have pre-printed barcodes. Moreover, the quantity and type of products change daily, and prices might adjust from time to time. Importantly, these labels contain rich product information, such as the date of placement, product ingredients, and allergen warning signs. Hence, store owners need a more flexible and convenient printing tool.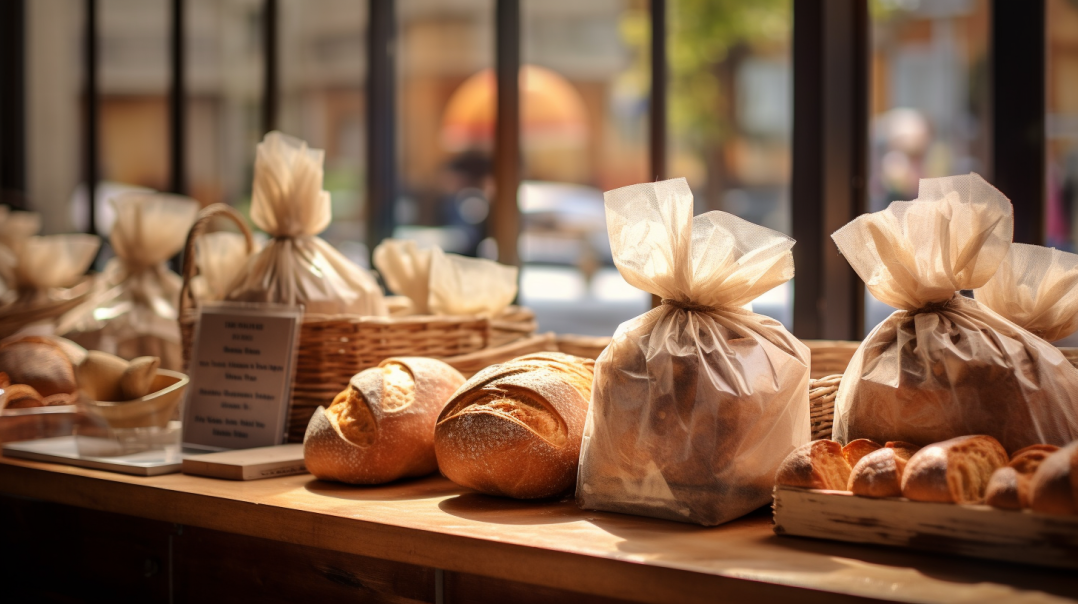 The HPRT SL32 series desktop barcode printer offers a Bluetooth version that can quickly generate labels via mobile phone using the HereLabel software. It can rapidly edit and print barcodes for the day's products to manage sales and inventory. By using the HereLabel, businesses can also print product barcodes containing automatic date and time, making it easier for consumers to know when the food expires.
HereLabel software supports multiple languages and symbols, and you can freely edit it. Moreover, you can save these templates for repeated use next time. HereLabel also supports cloud syncing to ensure no data loss.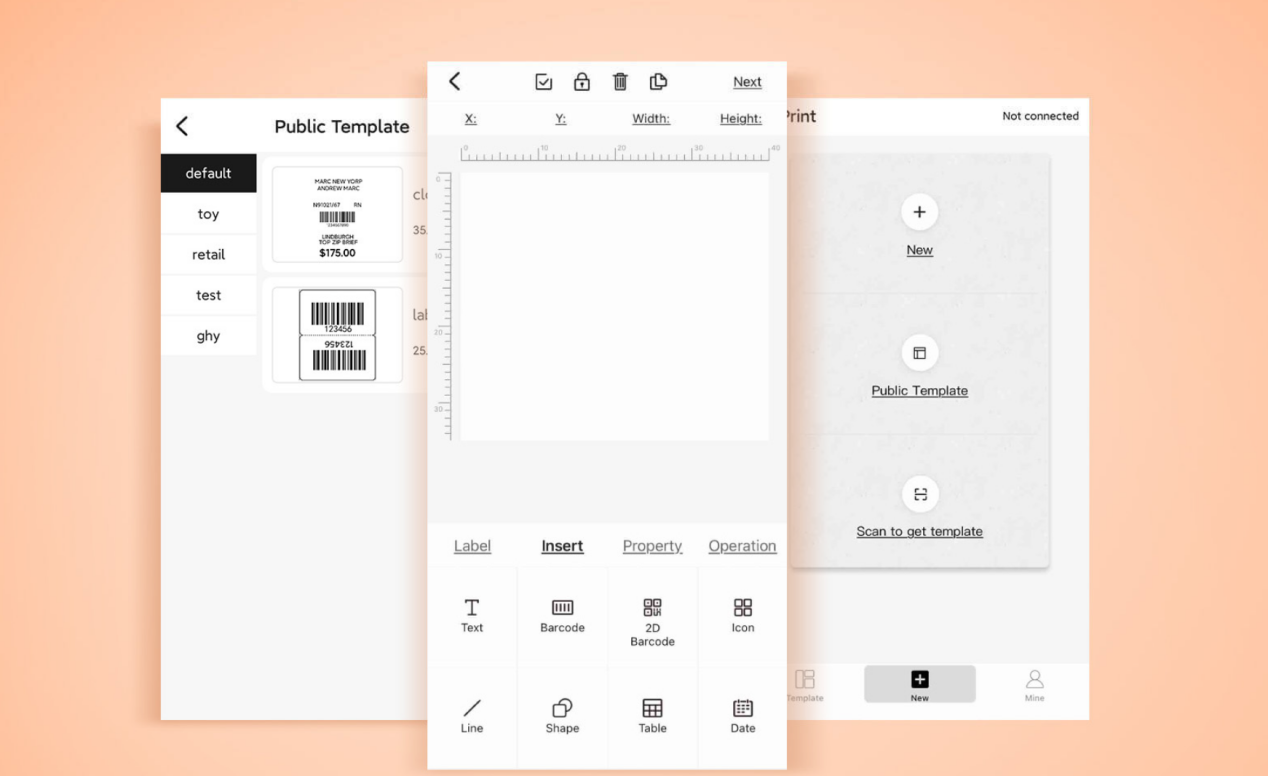 Gift Shops or Handicraft Stores
These types of stores often sell a variety of small trinkets and crafts, like earrings and studs. The
Such establishments typically offer an array of small trinkets and handcrafted items, like earrings and studs. For these products, overly large barcode labels would not be suitable.
The SL32 series thermal printer accommodates a minimum printing width of 25mm, so even petite pieces like earrings can boast their own mini labels without disrupting their overall aesthetic appeal. Opting for the SL32 series' Bluetooth variant allows you the convenience of wireless printing, enabling instant label updates in the jewelry section without needing to return to the counter.
In facing such a wide array of business applications, including label printing for clothing stores, barcode printing for books, and product label printing for bakeries, the HPRT SL32 series can provide efficient, precise printing solutions for you. This helps reduce your operating costs and improve your inventory management efficiency. The HPRT SL32 thermal barcode printer is set to be a reliable assistant you can depend on with confidence.