A Brief Introduction to HPRT mPOS Printer TP808-i
There are various types of Mobile Point of Sale(mPOS) printers on the market. Among them, the HPRT TP808-i cloud POS printer is a compelling choice. Like the hot-selling model TP808, TP808-i delivers high printing quality, fast speed, and stability. And it can be used in commercial POS systems, the food industry, and most occasions that require real-time printing of receipts. Let's dive into TP808-i more.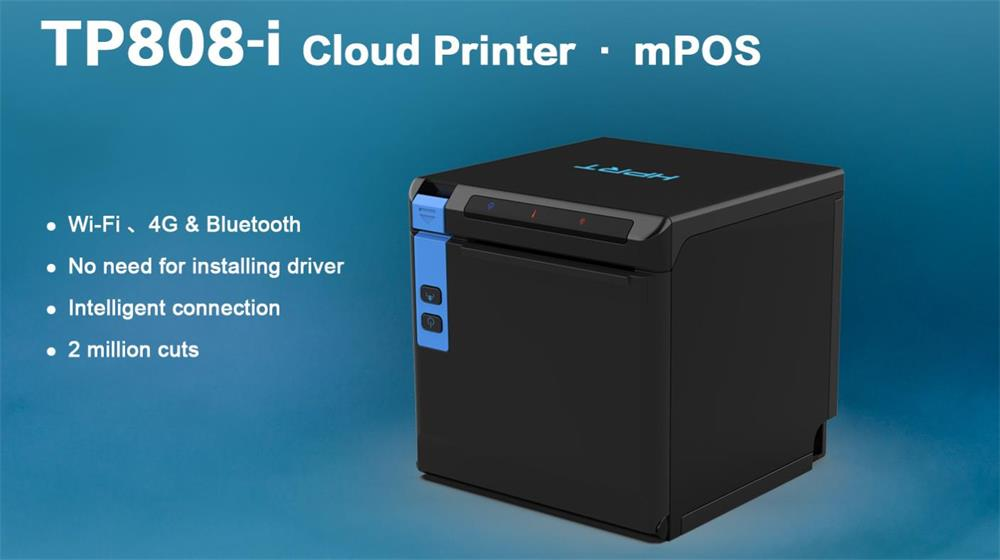 What is mPOS?
mPOS is a new type of payment product spawned by the continuous development of information technology. It can be connected to smart mobile devices such as mobile phones and tablet computers to transmit information through the Internet. At the same time, the external devices can complete functions, such as card reading, data encryption and decryption, prompt information display, and so on.
What Makes HPRT TP808-i A Compelling Cloud Printer Choice 
What differentiates TP808-i from other thermal POS printers is that it adopts the latest generation of cloud service technology, which allows the printer to be remotely connected to the service terminal through mobile devices, without being restricted by location and local area network, fully realizing smart printing.
In addition, HPRT TP808-i cloud printer can also be connected to character displays, barcode scanners, keyboards, etc. With the built-in Web server, a unified retail platform can be easily built.
1.Intelligent integration and high performance
HPRT TP808-i is a printer that combines the HPRT TP808 receipt printer with a smart interface. With a built-in Linux platform and web server, TP808-i supports the control of mobile POS deployments, tablet-based POS systems, cloud-based services, and peripheral device control, providing application functionality and flexibility to run various POS configurations.
2.Powerful web-based mobile printing
TP808-i uses HPRT's advanced HiPOS technology to enable web-based printing from any mobile device without the need for additional drivers. HiPOS technology provides seamless communication between printers and iOS/Android mobile devices.
3.Universal peripheral connection and control
The TP808-i and HiPOS technology allow you to easily add almost any external device to your POS system, which is especially beneficial for mobile POS. Equipped with three USB host interfaces and an Ethernet port, the TP808-i provides rich connectivity for three devices simultaneously, including WiFi and Bluetooth dongles, handheld barcode scanners, scales, customer displays, tablets, wedge MSRs, and more. Mobile devices can communicate with any peripheral device connected to the TP808-i. One of the USB host ports is capable of fast charging, so you don't have to worry about your device's power.
4.The application of the new generation of cloud service technology
In addition to the capabilities of existing POS systems, TP808-i can implement cloud-based services such as automated printing, loyalty programs, data analytics, and smart receipts. Your transaction data is transferred directly between the printer and the cloud, where valuable real-time data is parsed and extracted.