What Type of Digital Fabric Printer Do You Need?
Modern digital fabric printing differs from traditional printing techniques in that it eliminates the need for plate making, plate printing, and repetitive color registration. With digital printing, only one printer and an ordinary computer are required, and a single operator can independently carry out the entire printing process. Know all the benefits, and you decide to buy a machine to print on fabric but not knowing which type of machine to buy? Here is a 3-step checklist to find the perfect digital fabric printer.
Step one. Identify what materials you'll be printing on
The first step of choosing the right machine to print on fabric is to identify the materials you will be using. This is a crucial step as the ideal printer will depend on the type of material you will be printing on. 
Polyester is a popular choice for soft signage in venues such as tradeshows, airports, and malls. It is also commonly used in sports apparel, shower curtains, and tapestries. However, other industries such as fashion and home décor may use a variety of materials including silk, nylon, viscose, cotton, and linen. The choice of fiber type and fabric construction, whether it is woven or knit, will determine the suitable ink and printer for your printing needs. 
Therefore, having a good understanding of the fabric details is the key to making the best equipment purchase decision.
Step two. Identify the right ink chemistry 
Choosing the right ink is crucial in achieving high-quality and long-lasting graphics in digital fabric printing. Each fabric material, from polyester to silk, requires a specific ink chemistry that suits its unique characteristics. There are mainly five types of ink, including reactive ink, acid ink, disperse ink, high-temperature disperse ink, and pigment ink. The general breakdown is as follows:
1.Reactive ink works best on cellulose fiber (cotton, hemp), cupro, silk, wool and other fabrics.
2.Acid ink works best on silk, nylon, wool and other fabrics.
3.Disperse ink or high-temperature disperse ink work best on polyester fiber, acetate fiber, polyamide fabric 
4.Pigment ink works with most textile material.
Therefore, selecting the appropriate ink chemistry is essential to ensure that your prints come out with excellent quality and durability.
Step three. Choose the digital fabric printer 
Once you have decided on your fabric materials and identified the appropriate ink chemistry, it is time to narrow down your printer options. 
There are three main categories of digital fabric printers: direct-to-fabric printers, direct-to-garment(DTG) printers, and sublimation textile printers. 
Direct-to-fabric printers print directly onto the fabric. This type of printer is essential for printing on non-polyester fibers such as cotton, nylon, polyester cotton, Lycra, rayon, silk, leather, denim, flax, wool, elastic fabrics and new fibers.
Direct-to-fabric printer model recommendation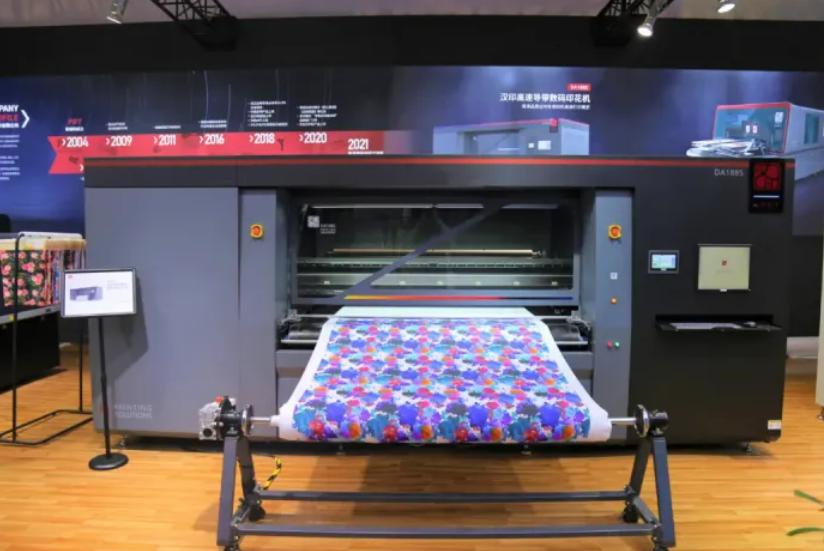 DA188S High-Speed Conveying-Belt Direct to Fabric Digital Textile Printer 
According to Mr. Lin Jinyi, the founder of HPRT, " The inkjet direct-to-fabric printing machine is not simply a matter of selling a piece of equipment. It is more like a project jointly explored with users, and it needs to adjust or customize certain functions and links according to different types of user needs."DA188S is equipped with 32 Kyocera industrial-grade print heads, with a production capacity of up to 1080㎡/hour, and is suitable for various inks such as reactive ink, acid ink, disperse ink, high-temperature disperse ink, and pigment ink. The automatic print head (nozzle) cleaning system, moisturizing system, and automatic belt cleaning and maintenance system greatly simplify operation and maintenance procedures, further reducing labor costs.
DTG printers can print directly on garments, such as T-shirts, hoodies, and canvas bags. This printing technology enables to print of small batches or even single-piece products cost-effectively and practically. It opens up many opportunities for cross-border e-commerce. For example, anyone can create their own designs and send them to printing companies, letting the technology do the rest.
DA067D DTG printer can complete the whole process from the pretreatment to printing, which frees the pretreatment process and improves productivity and production efficiency. It's an industrial-grade DTG printer that can print up to 160pcs/h.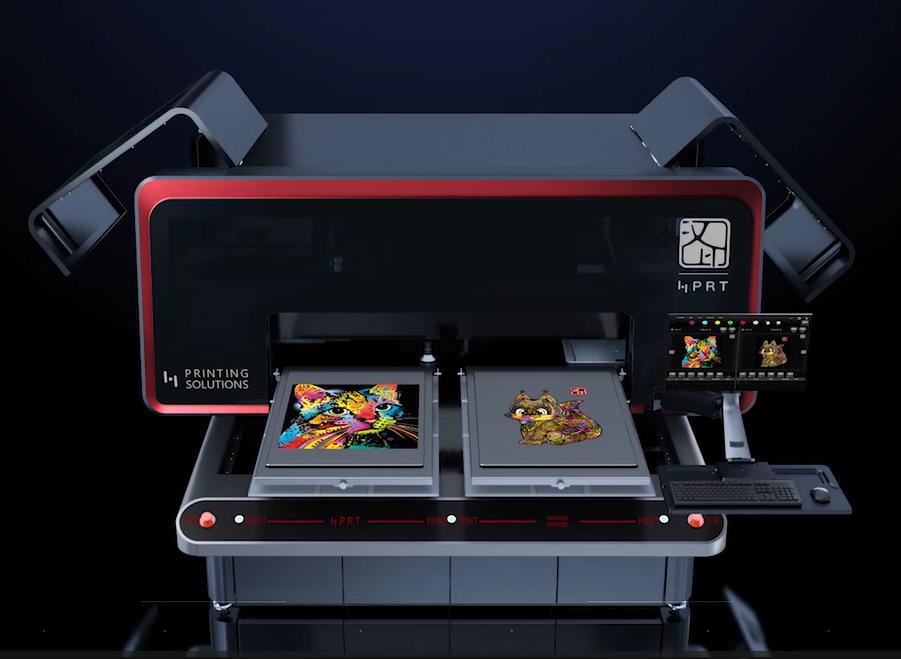 Dye-sublimation printers use disperse ink and print on transfer paper, which is then heat-pressed onto the fabric.
HPRT DA182T roll-to-roll dye-sublimation digital textile printer can print seamless and delicate pattern with vibrant color. The excellent printing quality improves the consumer's user experience and helps industry users achieve a win-win situation in terms of quality and cost.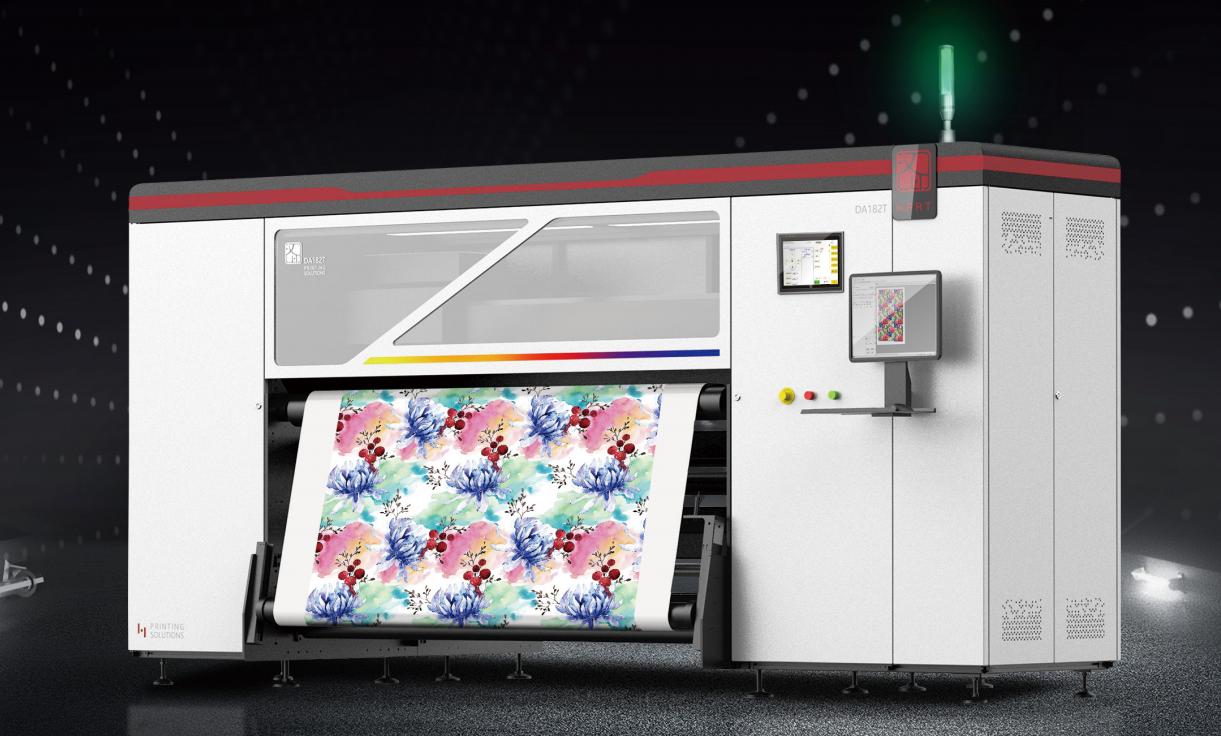 HPRT can also customize Single Pass (including flat screen + digital) ultra-high-speed digital printing machines according to customers' fabrics and order quantities. Contact HPRT digital textile printing professionals to find the right textile printer.