The Best Mini Instant Camera HPRT Z1, Your Ideal Partner for Party & Travelling
While portable photo printers offer the convenience of printing photos directly from your smartphone, they lack the immediacy and tactile joy of an instant camera. For events like parties or weddings, where capturing and sharing moments instantly is key, an instant camera is an absolute necessity. The HPRT Z1 is a mini instant camera that combines the functions of photography and printing into one device, making it a perfect solution for capturing and sharing moments instantly, especially during events like parties or weddings.
What the HPRT Z1 Instant Camera is for?
While digital photography has revolutionized the way we capture moments, there's an unparalleled delight in clicking the shutter and witnessing a tangible photo spring forth from the camera, developing in real-time. The Z1 mini photo printer is perfect for those who cherish the tangible keepsake of a printed photo over a digital image. 
The Z1 is suitable for various scenarios:
● Celebratory events such as parties and weddings.
● Travel photography and capturing everyday moments.
● Creating scrapbooks, DIY journals, or photo walls.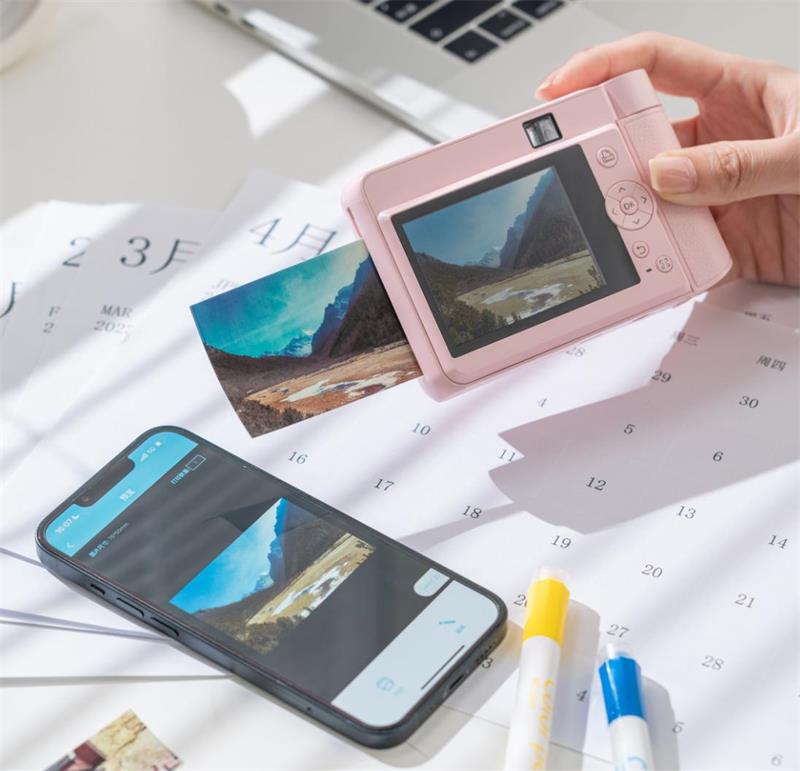 Weighing only 230 grams, the Z1 is a compact and lightweight device that's perfect for those who love to keep physical photos. It's available in attractive colors like pink and ocean blue, making it a stylish addition to any event. The photos it prints are perfect for sharing with friends, family, and loved ones.
For the younger crowd who enjoy social gatherings or occasionally attending weddings, the Z1 portable photo printer and camera, with its attractive design and instant print feature, is sure to make you the center of attention. The fun, heartwarming, and hilarious moments are captured and printed on compact photos, which are then eagerly passed around and eventually kept as cherished mementos.
Perhaps you're an adventurer who loves to explore the unknown. The Z1, being a mini photo printer and camera in one, is your ultimate travel companion. Its lightweight and compact design allows it to slip easily into your luggage or backpack, ready to capture your journey at a moment's notice.
Or maybe you're a DIY enthusiast who loves to personalize your scrapbooks. With the Z1, you can print photos instantly. Simply peel off the adhesive backing of the printed photos and you can stick them directly onto various journals and scrapbooks. You can also use these adhesive photos to create a photo wall. The high-quality ZINK inkless prints ensure stunning visual display.
Compared to instant cameras, the Z1 has its unique advantages. While instant cameras offer a nostalgic retro vibe, the Z1 photo printer uses ZINK inkless printing technology, producing images with more vibrant and lively colors. It also offers filter functions, including film style and black and white style, making it a multifunctional photo printing tool that can satisfy both modern and retro aesthetics.
How Does the HPRT Z1 Instant Camera Work?
Operating the Z1 is simple. You just need to load the photo paper, and you're ready to start your printing journey. 
How do you load the photo paper? First, slide open the outer shell of the paper compartment. Next, unpack the photo paper, ensuring that the glossy side is facing up and the blue card is facing down, then push it into the paper compartment.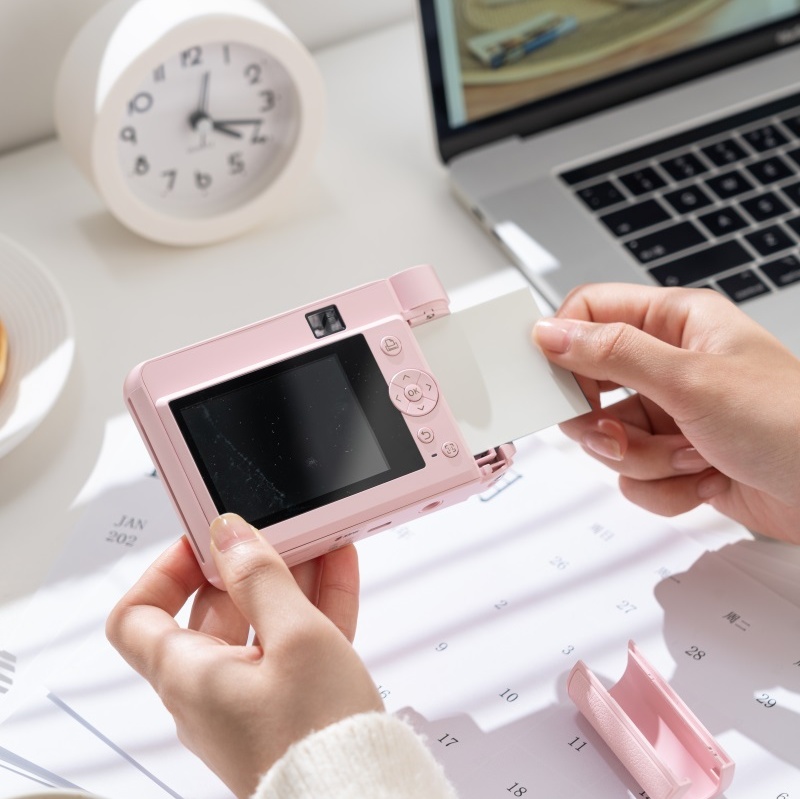 The process of installing the photo paper is quite straightforward. After that, press and hold the power button on the side of the machine to turn it on. Once the machine is on, the blue card will automatically feed through for testing, and after that, you can print photos normally.
This camera with printer has a rich set of features. On the top of the device, the slide switch next to the power button controls the fill light and flash. The flash serves as an auxiliary light source, effectively highlighting skin tones for more natural-looking photos, while the fill light is used for taking selfies in dim environments, ensuring clear images.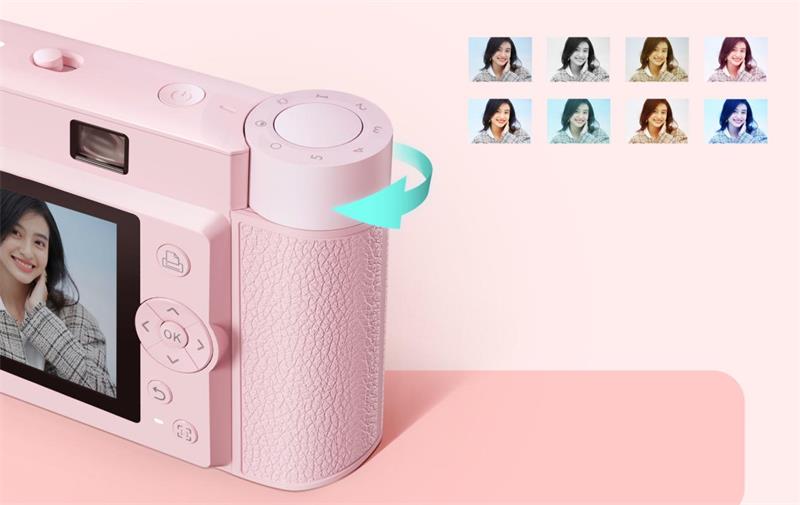 On the right side of the power button, there's a filter knob with eight settings, including black and white, film, artistic, twilight, and other filters. You only need to gently rotate the filter knob to see different filter effects. Once you've decided on an effect you like, just press the print button and wait for your photo to be printed.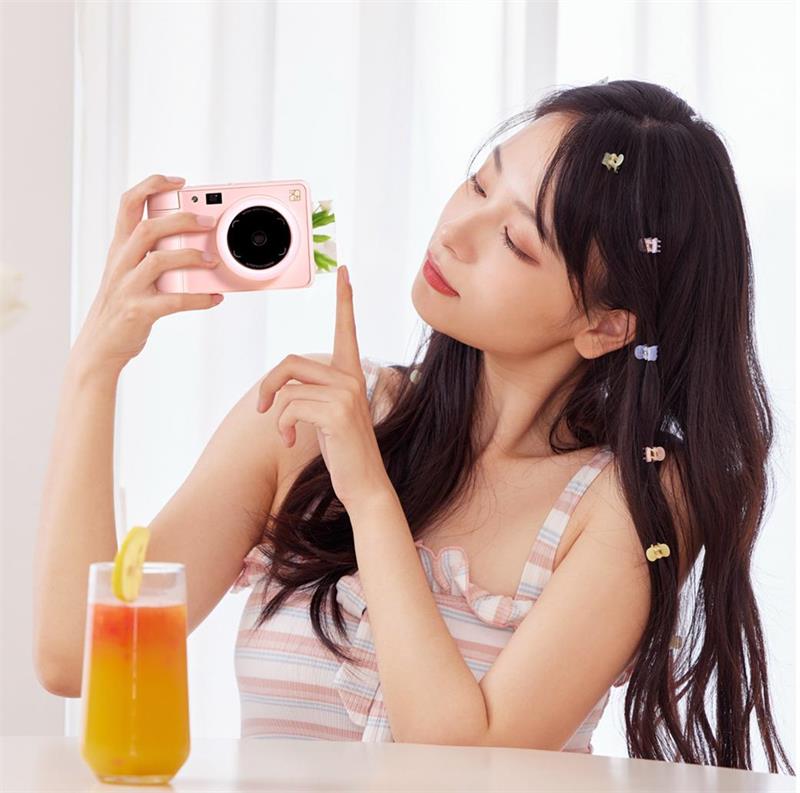 The shutter is located in the middle of the filter knob. After taking a photo, you can adjust the contrast and brightness using the buttons next to the screen, and then press the print button to print.
What Makes the HPRT Z1 Instant Camera Stand Out?
Many people fall in love with this instant hybrid camera at first sight. Its design, which mimics a digital camera, has cleaner lines. The addition of girly pink and ocean blue color options gives it a softer touch, blending a sense of warmth into its fashionable, tech-savvy appearance.
The HPRT Z1 is equipped with a 5-megapixel CMOS camera with autofocus capabilities, ensuring clear capture of subjects near and far. This makes it an incredibly practical device for travelers who enjoy capturing moving landscapes. If you are looking to buy the best zink camera which prints instantly, Z1 is a good choice.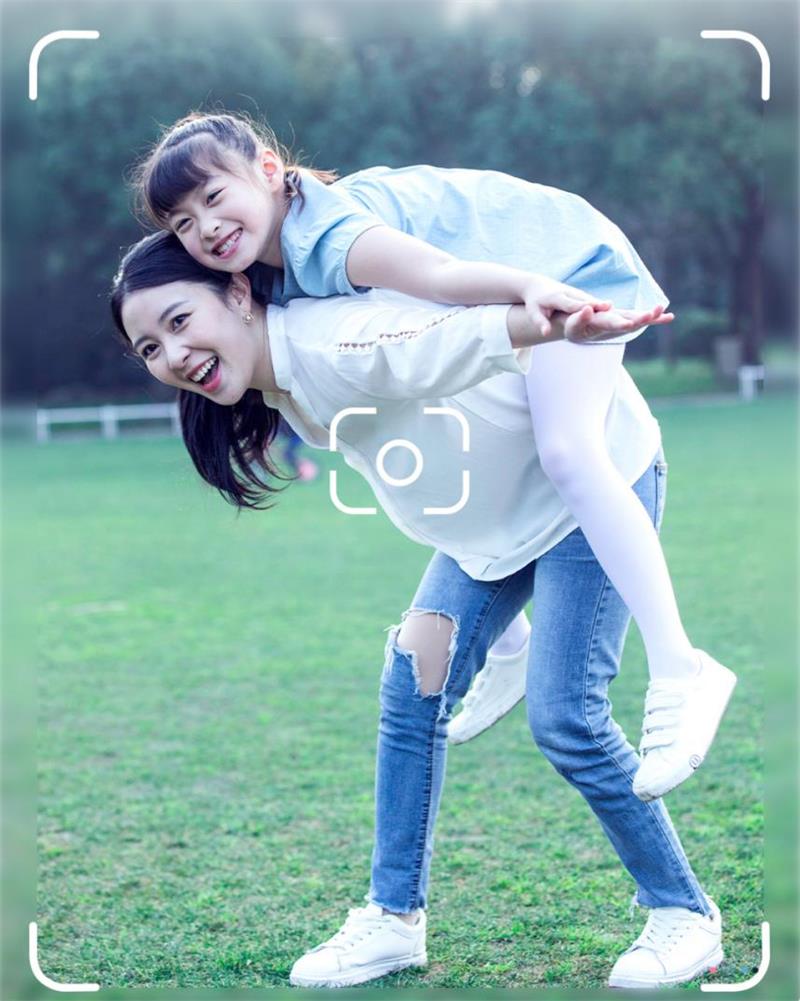 Compared to the tiny viewfinder of traditional instant cameras, the HPRT Z1 instant photo camera offers a 2.8-inch full-view large screen for more precise framing. It also serves as a preview window, allowing users to confirm the print effect before printing. 
To achieve the ideal shooting effect, the HPRT Z1 mini print camera is equipped with a flash and a fill ring light, providing strong light support. Selfies in dim environments can be clear and bright, and shooting under indoor warm-tone lights can adjust the color temperature to make the photos more natural.
In addition, users can adjust the brightness and contrast of the image through the buttons next to the screen. The Z1 instant polaroid camera also offers a variety of filter styles. Combined with the photos printed out by ZINK inkless technology, whether it's an artistic style or black and white style, the photos can instantly be filled with a sense of story.
One of the reasons why young people love this camera is that it offers fun mobile app gameplay. After a simple Bluetooth pairing connection, you can use the HPRT "HeyPhoto" app to freely edit photos in your mobile album, adding stickers, frames, or photo collages and print them quickly. 
It's worth mentioning that through the mobile app, users can also take remote control photos, which is very convenient for taking group photos or people and landscape photos from a distance.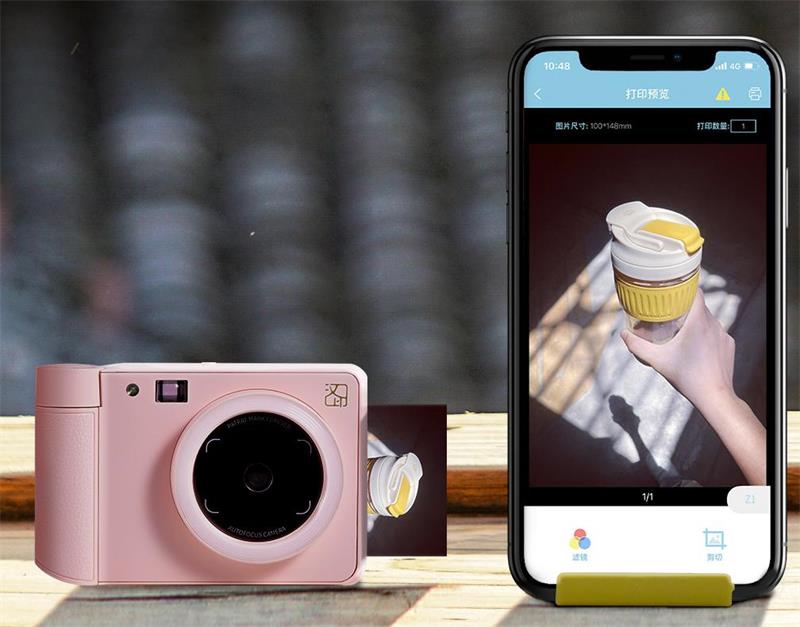 The cost-effectiveness of the Z1 portable photo printer is high. The ZINK photo paper consumables it uses have a clear cost advantage compared to traditional instant camera photo paper, making it more economical for users who like to take photos and print.
Since its launch, this model has been warmly pursued by users. Due to its convenient and intuitive operation, some young children have also become its fans, enjoying the fun of instant photography. Let's use the HPRT Z1 Mini Instant Camera together to record life, capture joy and emotion, and create our memories.
HPRT, a reputable manufacturer of portable photo printers, provides a range of solutions, from mini and compact to portable dye-sublimation printers. We're dedicated to innovation and offer robust OEM and ODM services, tailored to business needs. For inquiries about our products or services, feel free to contact us anytime.