Printing Cards: Using a Regular Printer or a PVC Card Printer?
Have you ever considered printing your own ID cards? Many people ask how to print PVC cards without a PVC machine. Yes, some regular inkjet printers may work out, but there are also some issues around them. In the world of card printing, the tools you employ can significantly influence the quality of the finished product. So printing PVC cards, using a regular printer or PVC card printer? Let's dig more next.
Is Your Inkjet Printer Sufficient for PVC Card Printing?
The internet is abuzz with the hot topic of using ordinary inkjet printers for card printing. People are diligently exploring which printers can print PVC cards without needing a specific PVC machine.
Inkjet printers are undeniably versatile and can handle a multitude of printing tasks. However, when it comes to card printing, they're not necessarily the top choice. There are distinct differences between using an inkjet printer and a dedicated PVC card printer:
PVC card printers using dye-sublimation or thermal transfer technology excel in producing high-quality prints, sharp details, and vibrant colors. They're optimized for printing on card surfaces, ensuring optimal image resolution and color accuracy. Conversely, inkjet printers may struggle to achieve the same level of print quality due to resolution constraints, ink absorption issues, and incompatibility with card surfaces.
Durability is paramount in card applications. Card printers enhance card resistance to fading, scratching, and daily wear and tear by applying protective overlays or laminates. On the other hand, the prints from ordinary inkjet printers may lack these protective measures, making them more prone to damage and color fading over time.
Card printers often come equipped with specialized features tailored for card production, such as encoding options for magnetic stripes or smart card chips, inline card flipping for dual-sided printing, and secure printing features like UV printing or holographic overlays. These features aren't typically available in standard inkjet printers.
Card printers can handle various card types and thicknesses, from PVC cards to smart cards and proximity cards. They ensure optimal print results and proper card handling through specific feeding mechanisms and printing settings. Conversely, inkjet printers might not effectively accommodate different card types due to lacking necessary mechanisms and settings.
The Suggested Solution: Using a PVC Card Printer
Stepping into the realm of PVC card printers, these devices, engineered specifically for card printing, counter the obstacles encountered with inkjet printers. Two main types of PVC card printers command attention in the industry: Direct-to-Card printers and Retransfer printers, both utilizing dye sublimation technology. 
If your business values cost-efficiency, speed, and simplicity in its card printing operations, then Direct-to-Card (DTC) printers should be your top choice over retransfer printers. This holds particularly true for organizations that have high-volume or on-demand printing needs, limited workspace, or a preference for equipment that requires easier maintenance and operation.
However, it's worth noting that DTC card printers, while providing high-quality prints, truly come into their own in situations where extreme precision or edge-to-edge printing — where retransfer printers usually have an edge — is not a critical requirement. In such scenarios, the practicality and appeal of DTC card printers come to the forefront.
Introducing the HPRT CP-D80 Card Printer
If you're considering purchasing a Direct-to-Card printer, the HPRT CP80 card printer is worth a look. Next, we'll delve into its features and benefits from multiple perspectives of a potential buyer.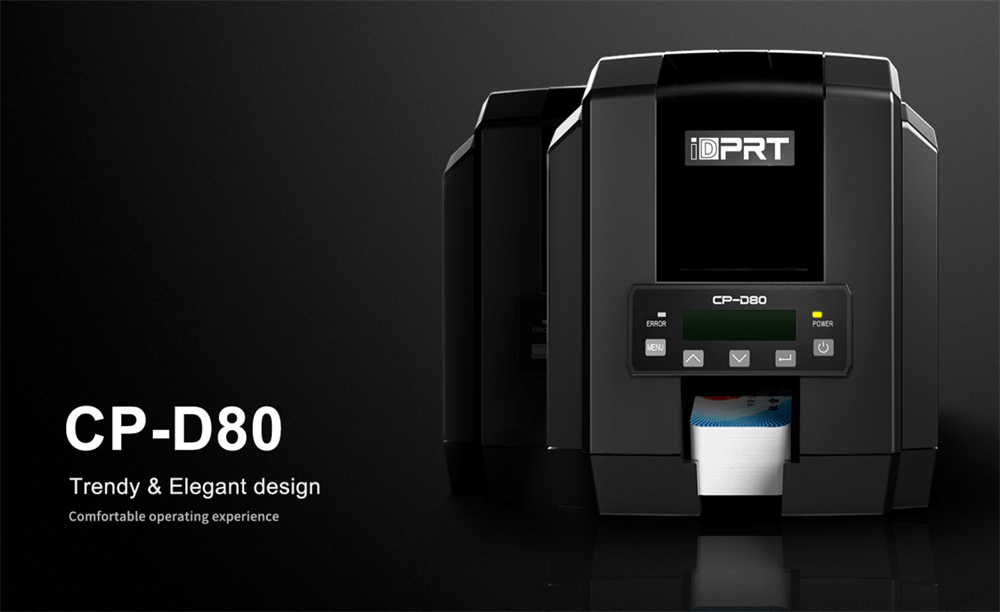 Is it monochrome or color printing?
Depending on your ribbon of choice, the HPRT CP-D80 ID card printer caters to both monochrome and color printing needs. 
Monochrome printing might be your choice for simple tasks like simple membership cards. Yet, for more elaborate requirements, like staff ID cards or discount cards, the color printing option comes into play. Whether you opt for a monochrome KO ribbon or a vibrant full-color YMCKO ribbon, you can tailor your print results to your specific needs.
Does it support single-sided or double-sided printing?
The HPRT CP-D80 ID card printer shines with its array of optional modules. By selecting the appropriate module, double-sided printing becomes a reality.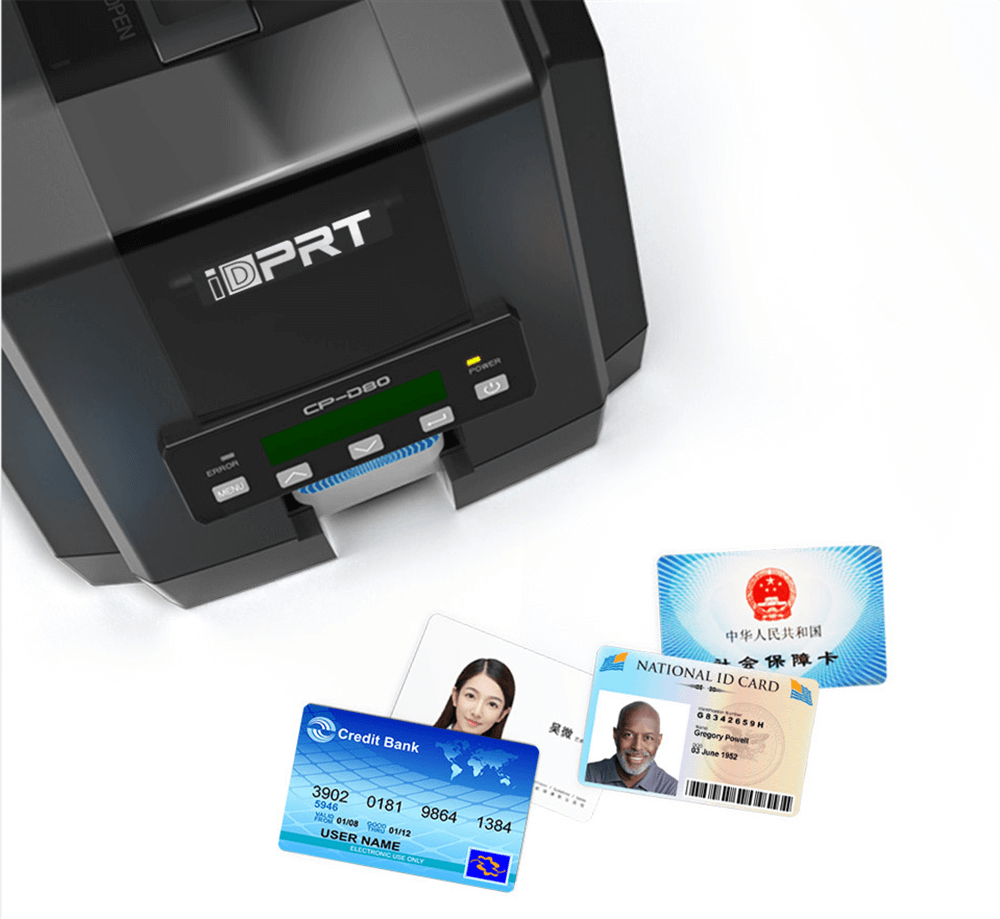 This feature allows you to convey information on both sides of the card, making the most of limited space. For instance, you could print identity details on the front and barcodes or QR codes on the back, creating a more content-rich card.
What's its printing speed?
The HPRT CP-D80 color card printer impresses with a maximum output of 500 single-sided monochrome cards per hour. 
For full color prints, this powerhouse maintains a pace of 150 cards per hour for single-sided jobs and drops to a still admirable rate of 100 cards per hour for double-sided printing tasks. 
Its remarkable card feed tray accommodates up to 120 cards, ensuring a continuous print run. Moreover, with its ability to start up in a lightning-fast three seconds, it's always ready to respond promptly to your printing needs.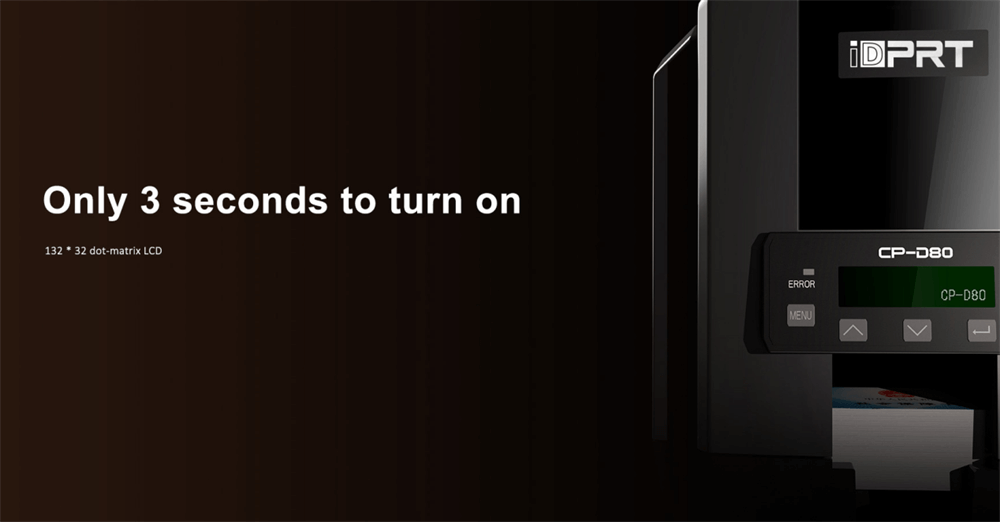 What are the accepted card dimensions and thickness?
The CP-D80 printer accommodates standard-sized cards, specifically 85.6 x 53.98 millimeters, with card thickness ranging between 0.5 to 0.76 millimeters. It supports PVC cards, composite PVC cards PTE, and other cards conforming to the CR-80 standard.
The HPRT CP-D80 dual sided color card printer capably prints graphical elements such as text, photos, and barcodes with a print resolution of 300 dpi. As a dye-sublimation direct-to-card PVC printer, it merges the printed image with the laminate overlay, protecting against stains and scratches. 
Furthermore, this treatment ensures the printed images and text are less likely to peel off or wear. This printer uses specialized ribbons and supports RFID authentication recognition, ensuring the printed ID cards remain vibrant for up to twenty years.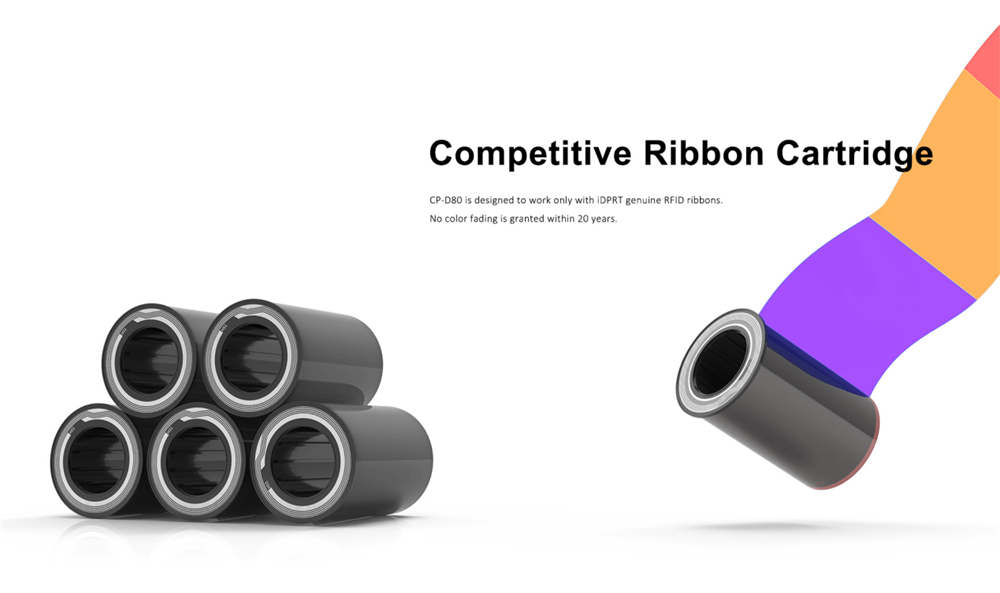 Can it encode data onto the cards?
Yes, the CP-D80 card machine supports data encoding. 
With the appropriate printing module, it can manage data encoding for a variety of card types, whether magnetic stripe cards, smart chip cards, or contactless IC cards.
What types of ID card printing is it suitable for?
If your need is to print: 
- Employee ID cards
- Loyalty and rewards cards
- Gift cards
- Health Insurance cards
- Single-sided membership cards
- Double-sided work permits
- Colorful student ID cards
- Personal identification cards
- Access cards
- Event passes
- Travel cards
- Children's annual cards 
- Bank cards
this sleek and straightforward ID card printer is a worthy ally. A few simple operations on its screen are all it takes to initiate a printing task quickly.
It is worth mentioning that during the epidemic, HPRT donated the CP-D80 color card printer to Xiamen Hongai Hospital for printing medical insurance cards.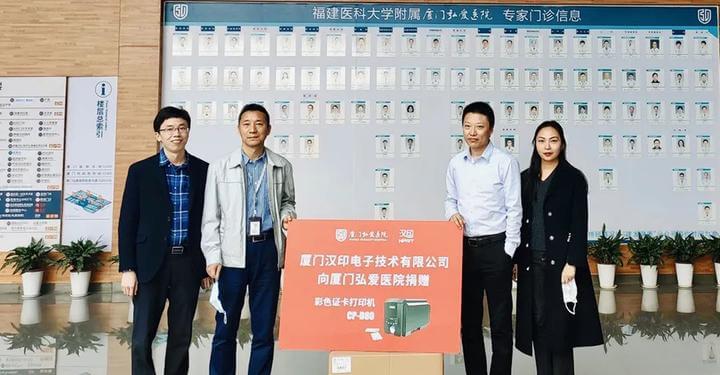 Paired with HPRT's ID card editing software, you can tap into a vast array of templates and customize unique ID card content for your business. Worth mentioning is the HPRT CP-D80's support for erasable features. When used with rewritable cards, it can erase and rewrite card surface information repeatedly.
The HPRT CP-D80 PVC ID card printer, built with a durable all-metal print core, prioritizes user experience by simplifying the printhead replacement process. This makes it an effortless task even for novices.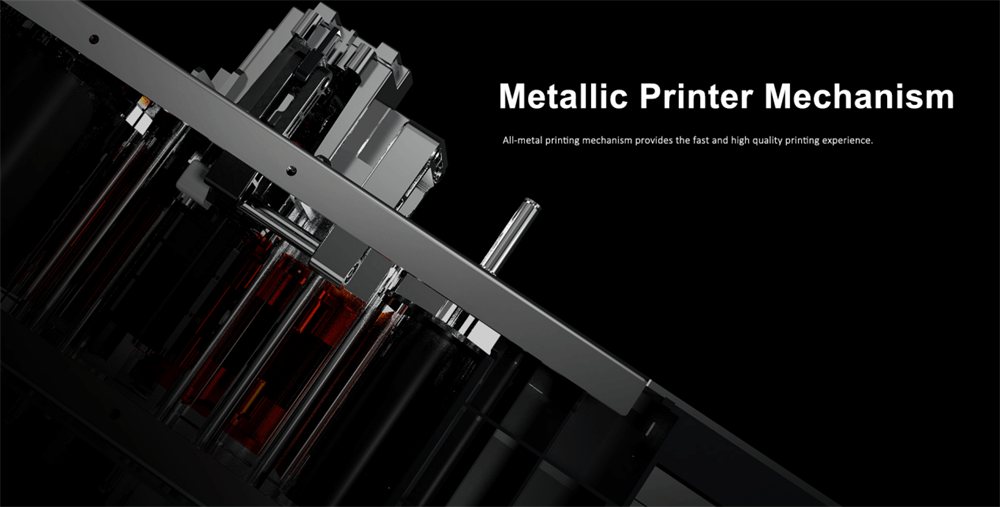 By connecting the printer to your computer via a USB cable, you can establish a standalone printing workstation. If your printing demands are more extensive, consider adding an ethernet connection, allowing those needing to print ID cards to connect anytime, significantly enhancing printer efficiency.
Choosing a printer for PVC card printing is a comprehensive decision, considering factors like print quality, durability, and professional features. While regular inkjet printers can handle some basic tasks, for specialized ID card printing requirements, a professional PVC card printer like the HPRT CP-D80 is undeniably a superior choice. If you have further questions about this ID card printer or wish to learn more details, feel free to reach out to us anytime.