Hybrid Digital Textile Printer Manufacturer-HPRT
We can see textile printing technology keeps evolving because there's a growing demand for efficient and versatile printers. That's where hybrid digital textile printers come in. 
A hybrid digital textile printing machine combines the best of both worlds: the ability to print high-quality images on fabric quickly and efficiently while retaining the flexibility and customization capabilities of digital printing. 
HPRT is one of the hybrid digital textile printer manufacturers in Xiamen, China. HPRT has strong R&D capability with a team of 400 Engineers and 18 years of experience. Although we entered the digital fabric printing industry in 2021, soon became a hot topic in the textile printing industry because of the full digital textile printing machine product line.
In this article, we'll focus on the HPRT high-volume hybrid digital textile printer: the DA066M.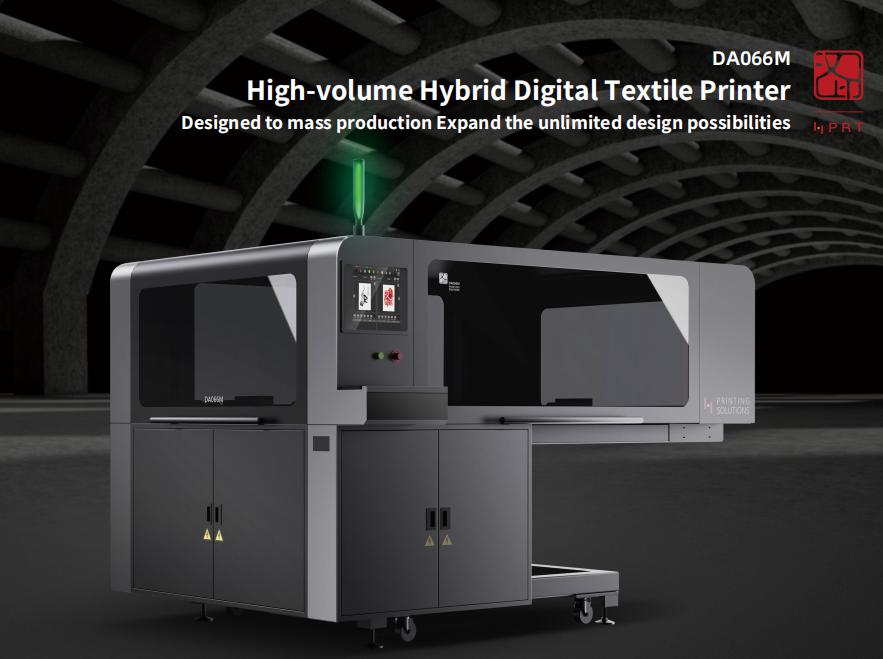 DA066M hybrid printer Introduction
Let's first start with the models. 
HPRT hybrid printer has two models: 
DA066MC, for color digital printing.
DA066MW, for white digital printing. 
Next we'll go through the main benefits by printing with DA066M.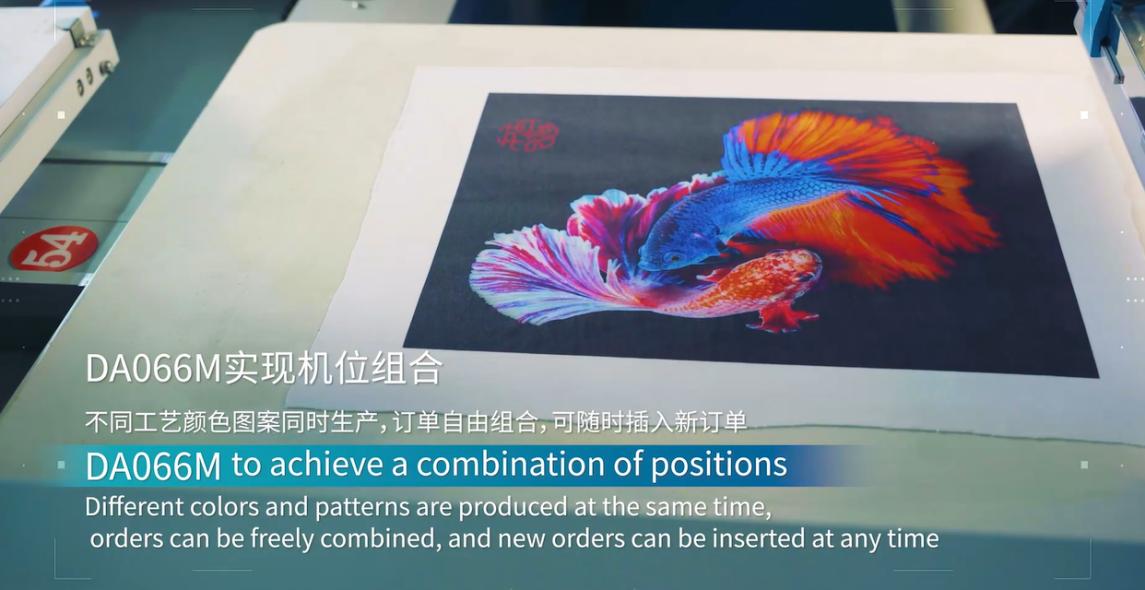 Various printing techniques combined for flexibility 
The DA066M hybrid printing machine offers hybrid screen printing technology, the option of combining screen printing with digital printing, as well as white and color digital printing, providing an impressive level of versatility. Multi-color printing can be completed in a single pass, without sacrificing production speed or efficiency.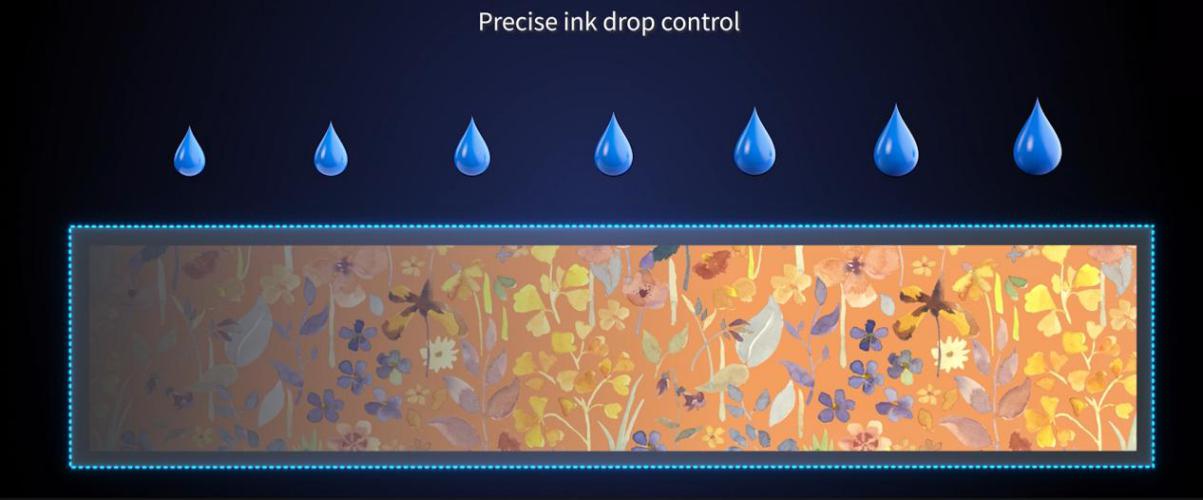 Upgraded technologies for high-quality printing effect
The ink droplet control, printing inspection, ink arrangement, and fabric control technology have all been upgraded, resulting in a significant improvement in the precision and performance of complex and intricate pattern images.
High-Volume Printing to increase efficiency
DA066M is designed for high-volume printing. It's an industrial grade hybrid dtg printer. With a print speed of up to 350 pieces per hour (for A4-size dark fabric), this printing device can handle large print runs with ease. And thanks to its advanced ink and print head technology, each print will be sharp, vivid, and detailed.
Versatility media compatibility to print on various substrate
The DA066M is capable to print on various fabric types, such as cotton, polyester, lycra, rayon, silk, leather, denim, flax, wool, elastic fabrics, and new fibers cotton. This feature makes DA066M an incredibly versatile fabric printing solution that can meet the needs of textile factories, printing companies, and large-scale apparel manufacturers that needs to print on various types of garments or products.
Multiple resolution modes for different printing tasks
DA066M offers multiple resolution modes, including high speed mode at 600 x 600 DPI and 1 pass, general mode at 600 x 1200 DPI and 2 pass, and quality mode at 600 x 1800 DPI and 3 pass. This flexibility allows users to choose the optimal resolution for their specific printing needs.
Automatic screen plate correction system to ensure printing effect
One of the standout features of the DA066M is its automatic screen plate correction system, which can be paired with an optional visual alignment system to ensure that your prints are always crisp and accurate. 
User-friendly designs for easy operation
We build this printer with easy operation and mantainence in mind. Features such as the secondary ink supply system, intelligent drying system, ink shortage warning system, and the all-new integrated intelligent print head cleaning and moisturizing device make operating the device simple and convenient. 
HPRT Print, a dedicated hybrid digital printer RIP system that simplifies the printing process for users.
DA066M hybrid dtg printer video
Here are more specs of DA066M
Print Head
Color digital: Kyocera print heads, 6H
White digital: Starfire print heads, 4H
Maximum Print Width
600 x 900 mm (according to Oval flatbed)
Ink
Pigment Ink
Ink Color: C, M, Y, K, R, G, W
Supported Image Type
JPG/TIFF/BMP/Other
Dimensions & Weight
L x W x H (mm): 3000 x 2200 x 1835
1100 kg
Power Consumption
Printer ≦ 5 KW
Printer Power Supply
AC380V | three-phase five-wire system | 10A (5KW) | 50Hz/60Hz
Compressed Air Supply
0.6 MPa | 1m³/hr (Dry, no oil or water vapor)
Operating Temperature & Humidity
20~30℃
55%-75% (Non-condensing)
Drying Option
Tunnel Oven
Certification
OEKO-TEX AATCC, CE
Expand your DTG printing business with HPRT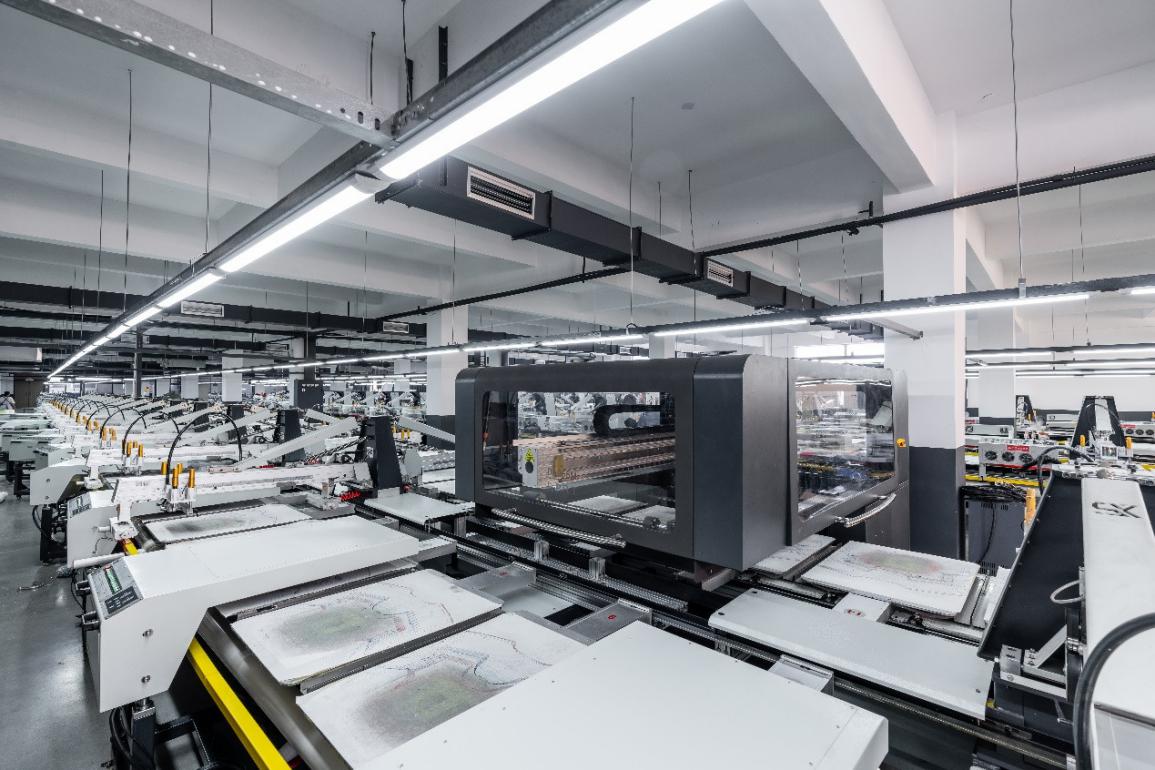 Compared to other hybrid digital textile printers in the market, the HPRT DA066M model has the above outstanding benefits. If you're a textile printing factory looking to upgrade your current hybrid printing systems, DA066M digital hybrid printing will be a great investment. So why not send an inquiry now and take the first step towards a more efficient and profitable textile printing operation?
For printer distributors looking to offer high-quality, cost-effective, and versatile digital hybrid printing solutions to their customers, HPRT's DA066M high-volume hybrid fabric printer is an excellent choice. By partnering with HPRT, a tech-driven hybrid DTG printer supplier in China, you can offer your customers a cutting-edge solution for their textile printing needs. Contact us today!