How to Connect Phone, iPad, or Computers to a Portable Photo Printer
Portable photo printers are convenient devices commonly found in modern life. They allow us to instantly print photos from our smartphones or other devices anytime, anywhere. You may be wondering how to connect phone, iPad, or computers to a portable photo printer? In addition to the traditional USB connection method, what other options are available? In the following, we will guide you through the connectivity options for portable photo printers, including Bluetooth, Wi-Fi, and other connection choices, and highlight their unique advantages.
When you consider the term 'portable photo printer,' lightweight, compact, and wire-free devices such as the HPRT CP2100 spring to mind. These photo printers that connects to phone typically use Bluetooth technique, offering users a hassle-free experience.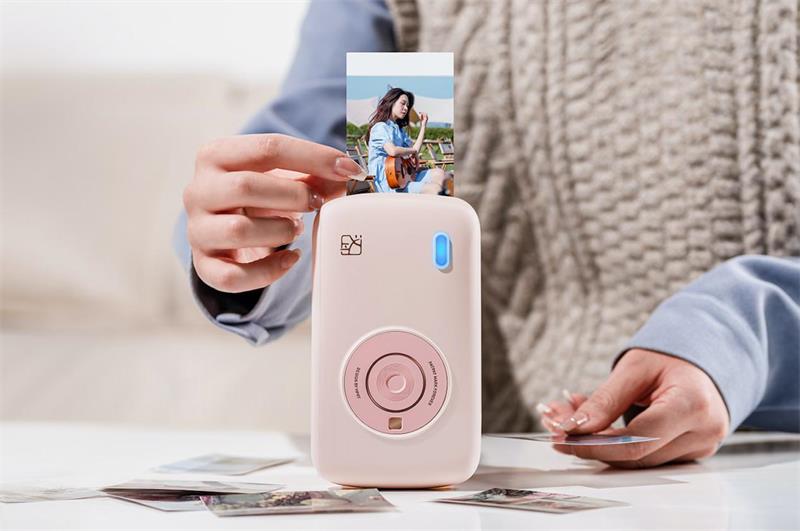 Bluetooth is a popular choice due to its universality across devices. With a Bluetooth connection, you can effortlessly pair your printer with most smartphones and tablets. Not only does it offer a speedy transfer of images, but it also lets you print on the go without the need for any cables or internet connection.
For more detailed instructions on how to connect phone to printer via Bluetooth, here are the steps:
1.Ensure that your mobile device or other device has Bluetooth functionality and that it is turned on.
2.On the printer, enable the Bluetooth connection option in the settings.
3.Open the desired photo or image on your mobile device and click print option.
4.Choose your printer from the list of available devices and establish the connection.
5.Once the connection is established, you can directly print the selected photo on the printer.
The advantages of Bluetooth connection are its simplicity of operation and its ability to work without a network, making it suitable for environments without WiFi. However, it is important to note that Bluetooth connections can have relatively slower transmission speeds and occasional instability.
However, if you want more flexibility and are okay with a slightly larger device, home photo printers such as the HPRT portable photo printer CP4000L provide Wi-Fi connectivity.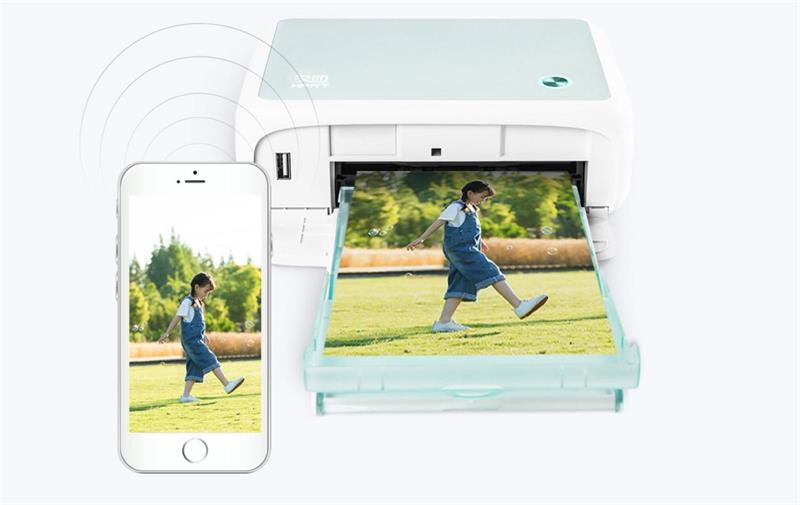 A Wi-Fi enabled portable photo printer allows you to print from any device connected to the same Wi-Fi network. This not only enhances its compatibility with a wider range of devices but also extends its range beyond Bluetooth's typical distance limit. And what's more? Some Wi-Fi printers also support cloud printing, meaning you can print your favorite photo even when you are away from your printer.
How to connect phone to wireless printer? It's simple to operate. Users generally need to download the app provided by the photo printer manufacturer, such as HPRT developed HeyPhoto app, which integrates various photo editing and collage functions. After opening the app, users can add devices and connect as instructed. We recommend reading the article 'How to Print Photos from iPhone Wirelessly without AirPrint' to learn more about WiFi connection details.
Typically, Wi-Fi photo printers are somewhat larger in size compared to Bluetooth photo printers. While most Bluetooth photo printers excel in mini 2x3 photo prints, for those who prefer the large size like 4x6 prints, a Wi-Fi photo printer is undeniably a great choice.
A few portable photo printers offer the more traditional USB connectivity. This method is ideal for users who prefer the reliability and speed of a wired connection. All you need to do is connect your device to a printer via a USB cable, download the printer driver, and select the photos you want to print.
In addition to offering Wi-Fi connectivity, the HPRT CP4000L also supports Android micro USB connection. After downloading the driver from HPRT official website, users can directly print high-definition pictures stored on the computer, which is convenient and practical.
To cater to photography enthusiasts and professionals, some portable photo printers, such as the HPRT Compact Photo Printer CP4000, also incorporate SD card slots or memory card slots This feature allows direct printing from your camera's SD card, bypassing the need for transferring images to another device, which is a significant convenience when printing high-resolution photos in the field.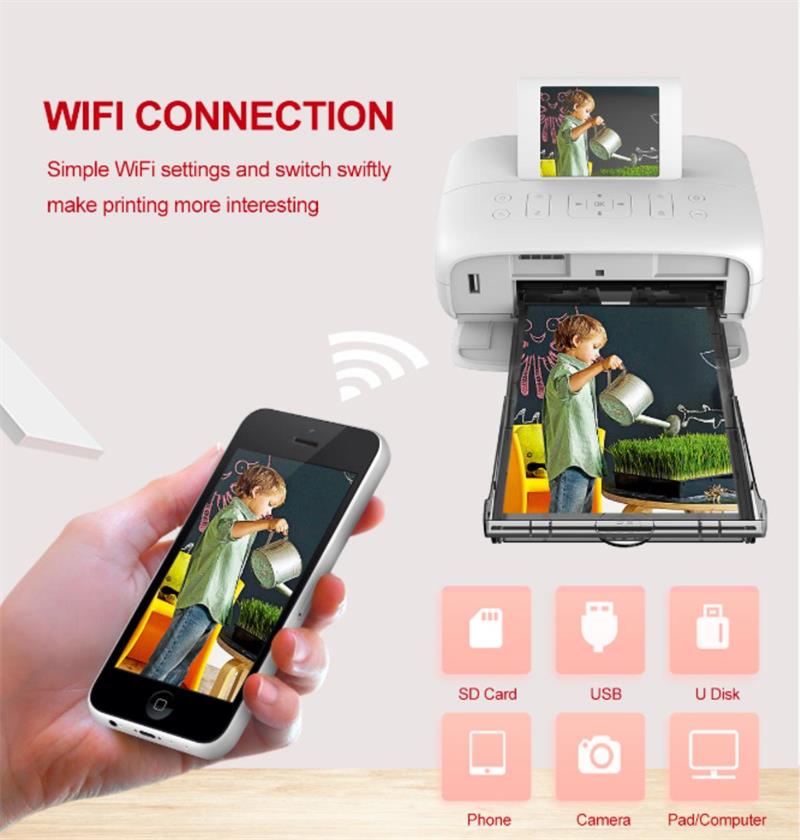 Portable photo printers offer enhanced flexibility and convenience due to the wide range of connectivity options available, particularly wireless connectivity to your phones and tablets. Whether you prefer a compact and user-friendly Bluetooth printer like the HPRT CP2100 or a printer like the HPRT CP4000, which provides both Wi-Fi and USB connectivity options, they can assist you in making those special moments accessible. Starting today, it's worth choosing a printer based on your own needs, allowing vibrant photos to capture your precious moments and cherishing every moment in life.