How the eBay Label Printer HPRT N41 Benefits Your eBay Business
Most self-fulfilled eBay sellers opt for in-house packaging and labeling. They purchase shipping supplies like boxes, bubble wrap, and tape in bulk to package items themselves, then print shipping labels directly from eBay. A high-performance eBay label printer will make your eBay selling experience more efficient. Today, we introduce you to a very practical tool for eBay sellers: the HPRT N41 4x6 shipping label printer and delve into the numerous advantages this remarkable printer can bring to your business.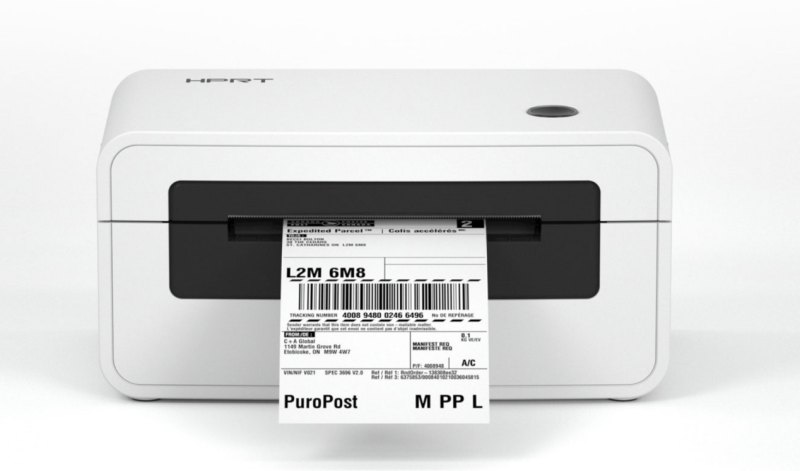 Print Shipping Labels on eBay
Shipping is a pivotal aspect of online selling, and this holds true for eBay sellers as well, especially during peak seasons like Black Friday, Christmas, and Back-to-School. During these times, sellers face a surge in order volume. To manage this efficiently, you need a reliable shipping label printer.
The N41 4x6 shipping label printer is engineered to effortlessly manage bulk printing tasks. It features a high-quality printhead that guarantees 30,000 meters of printing. Equipped with a 15.5cm long rubber roller and an intensified-coating thermal printing head, this eBay label printer effectively prevents paper jams and label adhesion. Moreover, its industrial-grade heat dissipation design avoids printhead overheating issues during prolonged use.
The N41 boasts a fast printing speed of 127mm/s and supports label widths ranging from 50 to 118mm. Its operation is straightforward, featuring automatic paper feeding and precise positioning. The printer produces clear text, barcodes, and graphics. 
Notably, its compact size allows for easy placement on desks or in warehouses without taking up much space.
How to Print Ebay Shipping Labels with N41
Setting up the N41 is a breeze. Next, let's demonstrate how to print label on eBay with this thermal label printer. Here are the steps:
1.Set up the shipping label printer: Power on the printer and connect the printer to your computer. Then, download the printer driver from the HPRT official website and install it.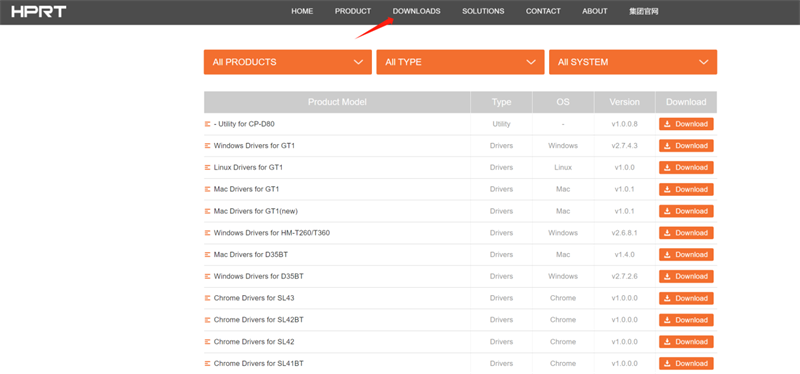 2.Log in to your eBay account and select the order for which you need to print labels.
3.Fill out package dimensions and weight, then select the shipping carrier and service you want.
4.Check the format for the label and select PDF 4"x6". Then click the 'Purchase shipping label' button to buy the label.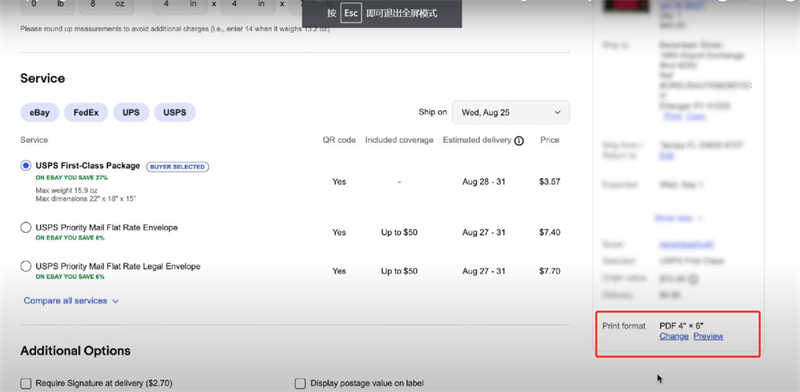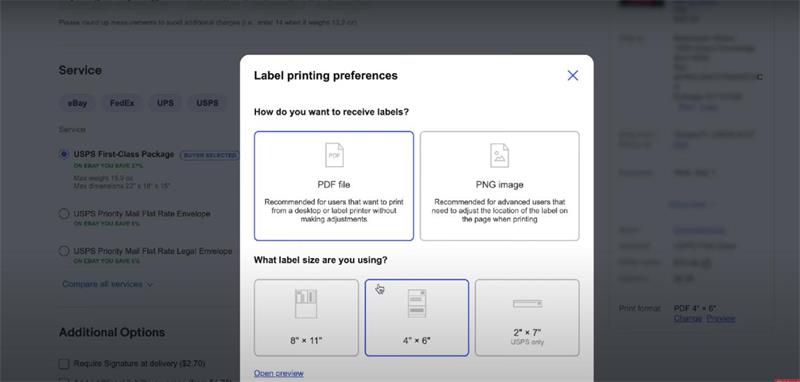 5.Once the payment is completed, click 'Print label' and check the preview to ensure it's correct. Then click the printer icon, make sure the destination is the HPRT N41 printer, and the paper size is set to 4x6. Finally, click 'Print' to get your label soon.
The N41 also comes with a Bluetooth version, the N41BT, which allows you to print eBay shipping labels directly from your phone. This eBay label printer is compatible with multiple systems, including iOS, Android, Windows, and Mac, and supports various platforms like FedEx, UPS, and Shopify.
Print Inventory Labels and Branding Labels
Inventory management is another area where the N41 excels. The N41 supports flexible label printing widths, with an effective printing range of 50 to 108mm. It can print various types of barcodes, such as Code 39, Code 93, and Code 128. Whether you need to print SKU numbers or product IDs, the N41 has got you covered.
When it comes to stocking products, eBay sellers can use the N41 to print a large volume of SKU numbers or product IDs. These can be affixed to the products, and with the use of handheld barcode scanners, precise inventory management can be effortlessly achieved.
In today's competitive market, branding is crucial. The N41 allows you to print custom labels, including branding logo labels, address labels, thank-you labels, and custom labels with QR codes. This feature is particularly useful for marketing campaigns, where you can include QR codes that lead to promotional content or your website.
The N41 Label Printer is a versatile and reliable tool for eBay sellers. Its ability to print 4x6 shipping labels, inventory barcodes, and custom QR codes makes it the best shipping label printer for eBay sellers, online sellers, and small businesses. So, if you're looking to streamline your operations, the N41 eBay label printer is the tool you've been waiting for. It's not just a printer; it's a comprehensive solution for all your label printing needs.