HPRT Catering Industry Solutions | One-stop Configuration for Coffee Chains
As a traditional Chinese saying goes, "Food is the first necessity of the people". The catering industry is a livelihood industry that is constantly changing, both now and in the future. A successful restaurant needs to pay attention to physical, online business, dine-in, takeaway, and retail business. Besides, enterprises in the catering industry should provide not only delicious food but also a nice dining experience for customers, as well as efficient and diversified solutions.
HPRT & Belray Coffee
Established in March 2020, Belray Coffee is a coffee chain brand under the Ting Hsin International Group. As a warm national cafe, Belray Coffee adheres to the concept of "good coffee is made from good beans", providing high-quality coffee and delicious food. By providing consumers with high-quality products and dining experiences through both online and offline channels, it conveys the life aesthetics of "coffee and hot food". At present, Berry Coffee has established subsidiaries in eight cities including Shanghai, which operate more than 100 offline stores.
HPRT and Belray Coffee have already established an in-depth strategic partnership. The label printer iE2P used in Belray's chain stores is provided by HPRT. The printing speed of this professional barcode label printer can reach up to 8IPS. It comes with a touch-sensitive 3.5-inch colorful LCD screen and automatic identification resolution function. iE2P supports a variety of interfaces and is equipped with a buzzer and a light strip reminder, allowing store staff to notice the status of the printing machine at any time.
At present, the total number of small and medium-sized catering businesses accounts for more than half of the entire catering industry. However, when it comes to opening a physical store, many people don't know where to start. 
There are few one-stop shopping channels in the market. There is little room for bargaining, and the quality and safety of products are hard to guarantee, which will directly harm the interests of consumers. 
For the brand owners, dealers, and distributors in the supply chain, there are also some problems, such as poor product distribution, slow distribution of new products, lack of data records, low channel profits, and high logistics costs.
Upgrading the Catering Industry Supply Chain
To Realize One-stop I/O
1. Ordering solutions
Whether you're in the fast food or coffee business, ordering at the front desk is inevitable. A high-performance ordering and ticketing machine can replace manual handwriting, which will reduce the error rate of handwriting. It can also accurately note customers' preferences so that customers would be more satisfied. The Oneplusone(a brand of HPRT) HSP500 intelligent POS terminal has a built-in high-definition screen and flexible printing modules with clear cable management. The printing modules can be customized according to customers' specific needs. 
so you can realize orderly ordering with only this machine. You can easily manage orders with HSP500.
2. Kitchen solutions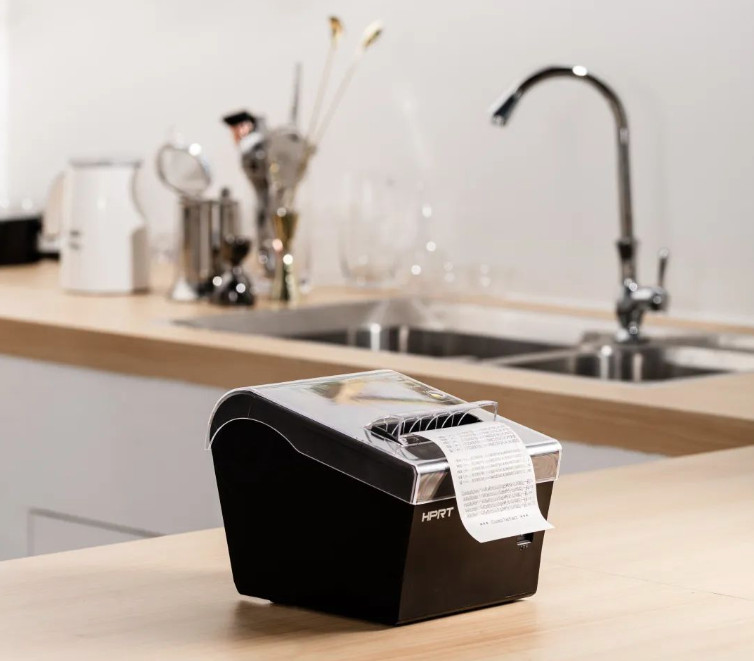 Compared with the front desk, the environment in the kitchen is much worse. There is a lot of water, steam, and smoke, and the temperature is very high. There are many problems in the kitchen. For example, water and oil often drip on the printer; the environment is so noisy that errors in the printer are not easy to notice in time. 
The kitchen receipt printer KP806PLUS designed by HPRT can solve the above problems. This printer has a waterproof, dust-proof, and fume-proof upper cover, which can effectively prevent water and oil fume from entering the interior of the machine. Besides, the insulating fume-proof coating can prevent printer failure caused by fume and unknown biological invasion. The reprinting technology can effectively prevent losing orders, and it also has sound and light alarms. KP806PLUS is the best choice for kitchen order printing.
3. Cashier solutions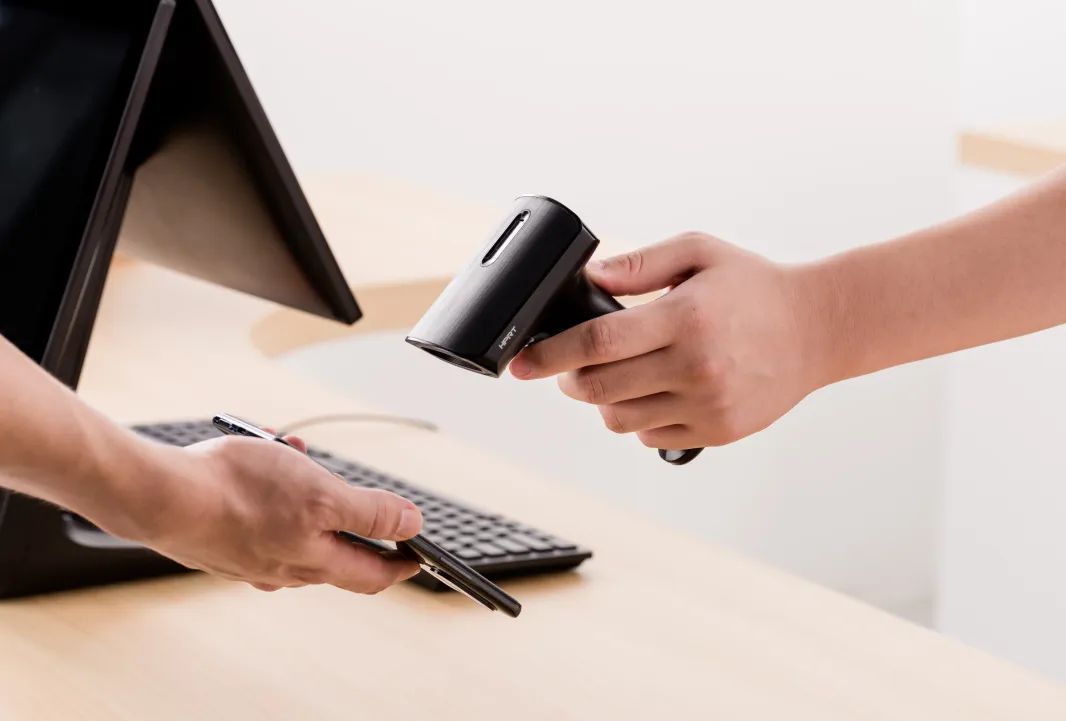 The cash register is the important terminal of the entire catering service. And the scanner is one of the important parts of the cash register.
HPRT HN-6208SR handheld barcode scanner adopts the independent decoding technology. It can realize long-distance scanning, and adapt to different reading distances. 
With megapixels, this scanner can easily read blurred, contaminated, or high-density and low-contrast barcodes. The HPRT HN-6208SR scanner is invented with a highly integrated structure, so it is durable and anti-drop. It passed a 1.8m height drop test. Besides, this plug-and-play QR code scanner is compatible with various systems.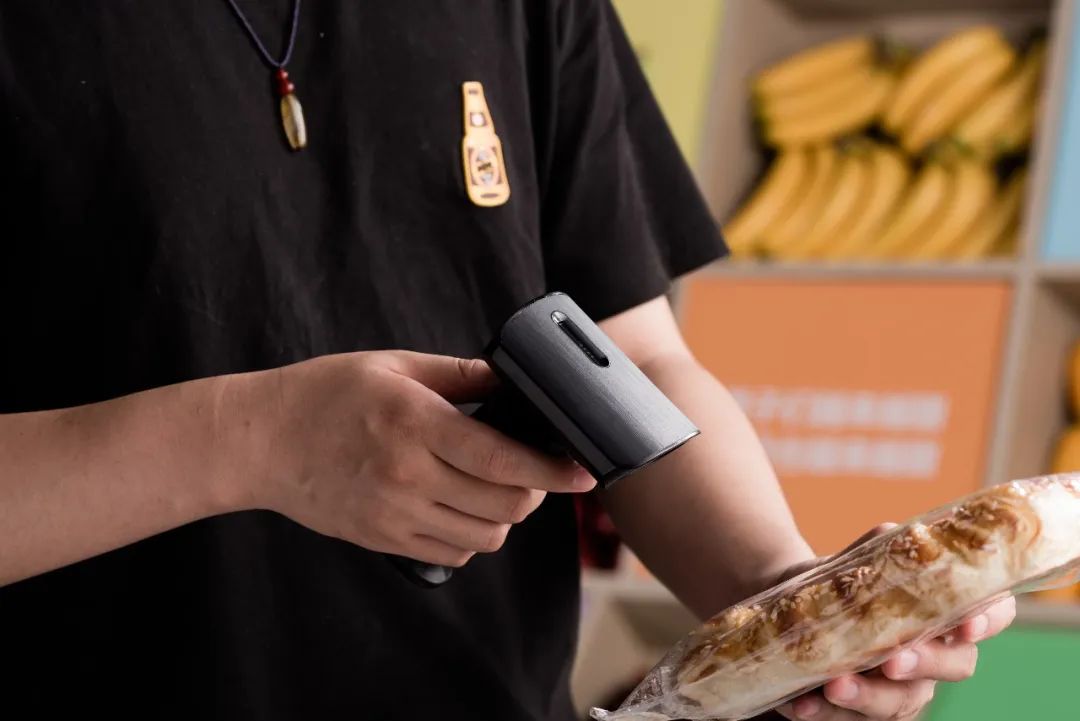 The HPRT HN-6208SR scanner can not only make the checkout more convenient but also prevent missed checkouts. In terms of inventory management, this scanner can help the work of goods receiving, sorting, searching, replenishment, and price management to be accomplished more accurately and timely.
4. Takeaway solutions
Today, the demand for food delivery and online retail is gradually increasing. Therefore, a takeaway receipt printer that can automatically accept and print orders is quite important, especially at meal time. It can not only save the time on manual monitoring but also reduce the possibility of missing orders or taking wrong orders. 
The HPRT automatic takeaway order printer TP582C, with great compatibility, can match with both the Meituan and the Ele.me platforms and provide automatic voice broadcast. The content of the receipts printed by this machine is clearly visible, which will effectively reduce the probability of mis-delivery and missed delivery. In this way, the quality and level of service of the catering industry will be constantly improved.