Elevate Your Labeling Experience with the HPRT T20 2-Inch Thermal Label Printer
Now mini label makers have become ubiquitous, gracing offices, homes, and even accompanying us on our travels. Their widespread adoption isn't just because they offer a streamlined, efficient way to tag items. It's also because they cater to our desire for personalized label printing. For those who have already fallen head over heels for 1/2 inch label makers like the Qutie, the newly launched HPRT T20 2-inch thermal label printer is set to elevate your creative possibilities.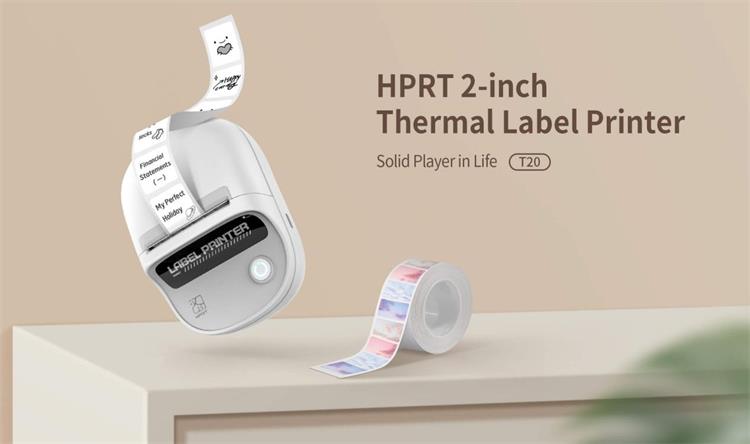 This 2-inch label maker is uniquely designed to offer you a broader canvas for your labeling needs, delivering both professional and precise prints. Every detail and each label you print can fully reflect your individual style and taste. So, what makes the T20 stand out?
Key Features of the T20 2-Inch Thermal Label Printer
1. Portability Perfected: This Bluetooth label maker is compact and supports mobile Bluetooth connectivity. With a 10-meter transmission range, mobile printing has never been easier.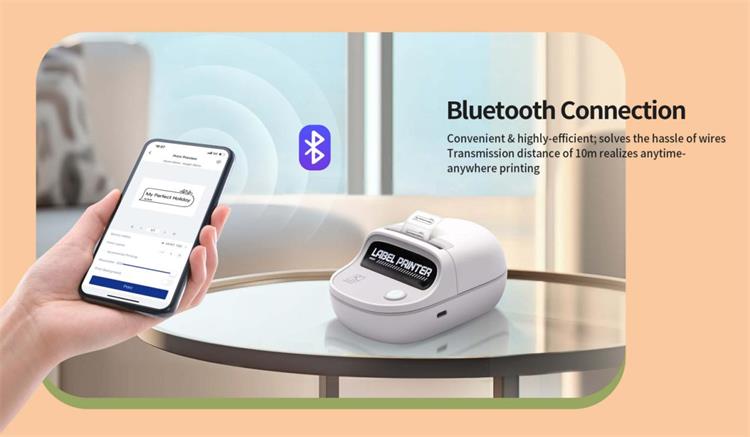 2. No Ink or Toner Needed: Leveraging thermal printing technology, this printer only requires thermal label paper, making it both cost-effective and eco-friendly.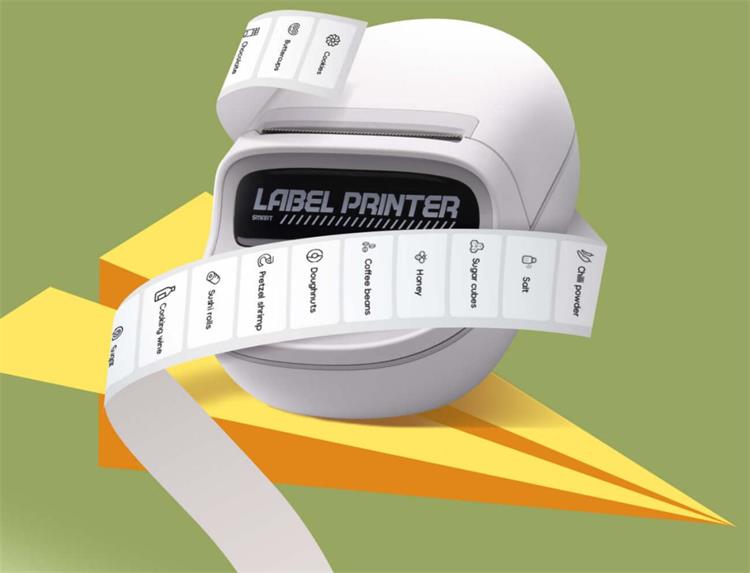 3. DIY Label Design: Paired with its unique and powerful label maker App, HerePrint and HereLabel, this Bluetooth label maker opens up a world of endless design possibilities. From whimsical bubbles and stickers to practical borders and dates, you're free to add a variety of elements to your labels. 
With user-friendly formatting options like text alignment, italics, and bolding, creating labels becomes an effortless task. The result? Smooth, easy-to-read, and well-organized prints that truly reflect your style.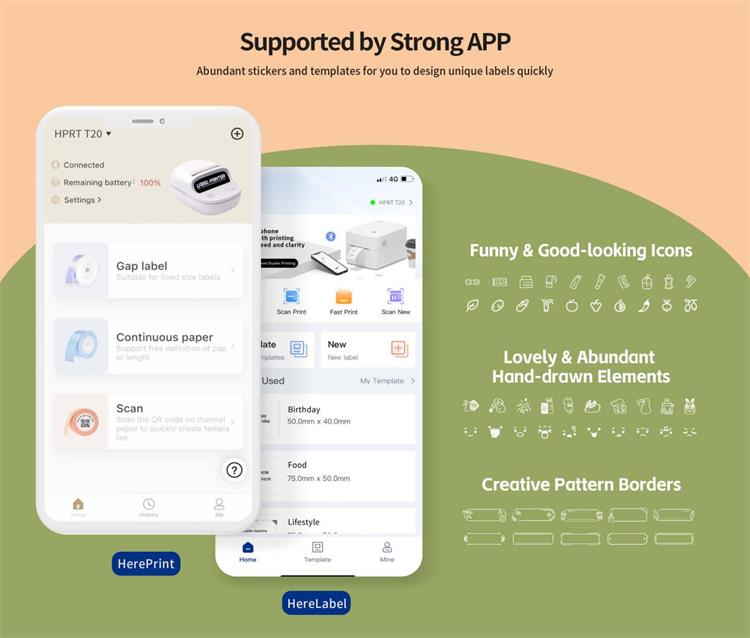 4. Expanded Creative Canvas: The mini label maker accommodates label paper widths between 25-50mm, offering flexibility in print width. Multi-line printing is no longer a challenge, and the printer even supports multi-specification and multi-color official HPRT labels to add vibrancy to your daily life.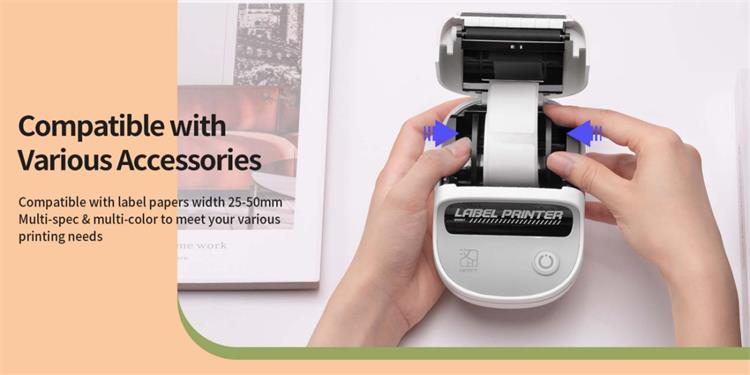 5. RFID Label Recognition: Once you load the official consumables, the mini printer automatically identifies the label, making the printing process even more efficient.
How the T20 2-Inch Thermal Label Printer Enhances Everyday Life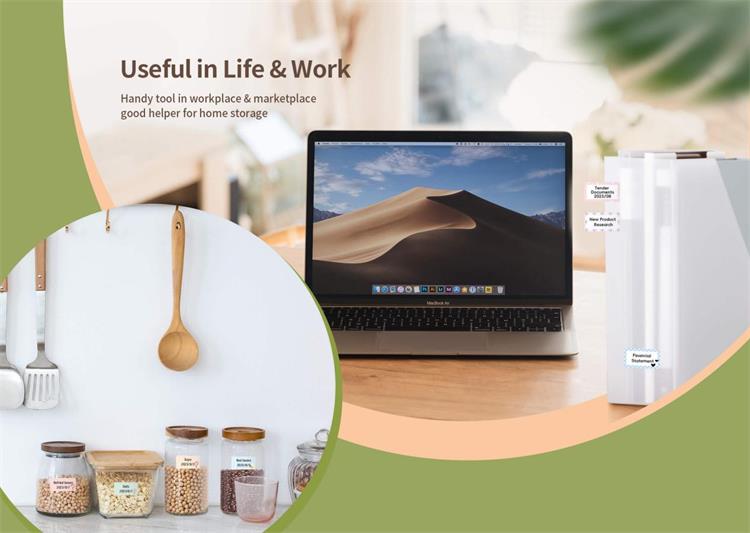 1. Beauty Product Management: Label your cosmetics clearly, specifying both the product name and its expiration date for easy identification.
2. Kitchen Organization: Add date labels to various spice jars, kitchen containers, and food items, making ingredients and seasonings management more straightforward.
3. Medication Management: Clearly label medicines with expiration dates and usage instructions, eliminating concerns about improper usage or expired medications.
4. Children's Play Area: Use vibrant labels on storage bins and boxes to guide children in organizing their toys.
5. Home Storage: Attach the right labels to wardrobes, storage boxes, and bags, making seasonal clothing and bedding easy to find.
6. Item Identification: Label home fixtures like lamps, switches, and charging cables for added convenience.
7. Office Space: Keep your workspace orderly by labeling stationery, files, and documents.
8. Scrapbooking & Journaling: Utilize the robust Label Maker App to seamlessly generate an eclectic mix of stickers and labels in diverse styles and colors. Elevate your journaling experience by adding a personalized touch to each page.
The HPRT T20 2-inch wide label maker is a reliable assistant that brings both order and creativity to every aspect of your life. If you're in the market for a label maker geared towards organization, look no further. Opt for the T20 and elevate your lifestyle today!