Receipt Printer Buying Guide for Retail and Restaurant Businesses
Selecting the right receipt printer for your store or restaurant isn't a straightforward task. From evaluating print performance and connectivity to addressing overlooked compatibility issues and unique features, there's a lot to consider. But don't fret! This guide is here to help you find the perfect receipt printer for your retail and restaurant business, ensuring smooth and efficient printing.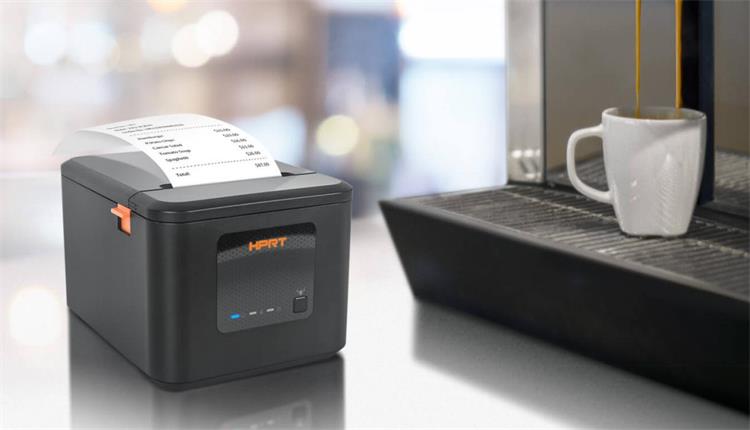 1. What is a Receipt Printer?
A receipt printer is a device that produces a hard copy of the transaction details for customers. The term "POS printer" is more encompassing, referring to any printer integrated into a POS system, Yet, when most people mention a POS printer, they're typically referencing receipt printers. 
Among these, the thermal receipt printer stands out for its rapid, efficient, and quiet functionality, in contrast to its counterpart, the impact receipt printer. All these printers have found applications in diverse sectors, from retail stores and restaurants to gas stations and hotels.
2.How to Choose the Right Receipt Printers?
Retail and catering are the two industries where receipt printers are most widely used. 
In retail settings, from supermarkets to local grocery stores, pos receipt printers primarily serve to produce various types of transactional documents. 
These printers produce sales receipts, return slips, gift receipts without prices, and occasionally promotional coupons. They offer customers transaction records and help businesses with sales tracking and inventory management.
Now POS thermal printer reigns supreme in retail like supermarkets, clothing stores, grocery stores, gift shops, etc. Its popularity stems from its quick printing capabilities and the absence of ink, making it cost-effective and efficient. 
When considering a purchase for a retail receipt printer, these factors below need to consider: 
● Considering Your Needs
When selecting a receipt printer for your business, it's crucial to evaluate your specific printing requirements. For traditional setups where the printer is stationed at the checkout counter, a desktop receipt printer is apt. However, if your business is mobile or you often set up temporary promotional booths in places like mall lobbies or outdoors, a portable receipt printer becomes essential.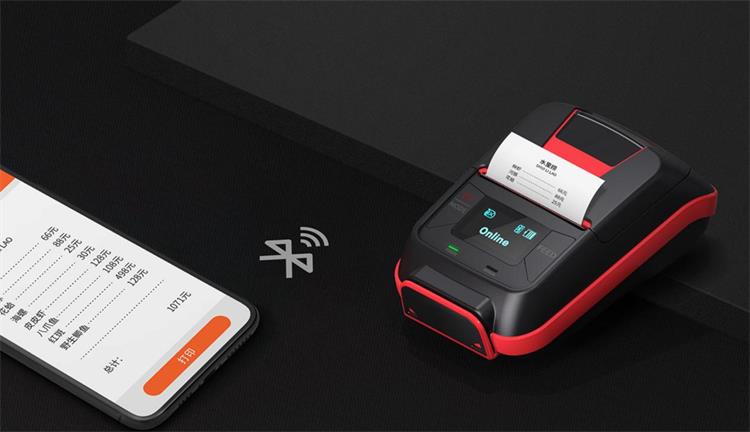 Furthermore, understanding the content of your receipts is vital. If you're printing comprehensive receipts that include promotional details, loyalty points, store QR codes, and more, an 80mm receipt printer would be the best fit. Conversely, for more straightforward printing needs, such as item names, unit prices, and quantities, a 58mm thermal printer should suffice.
● Performance of Receipt Printer 
Printing speed and quality are the foremost factors we consider when selecting a receipt printer, as they directly impact efficiency and user experience. 
For bustling environments like supermarkets, bubble tea shops, and beverage stores, printing speed is paramount. For instance, the HPRT TP809 80mm receipt printer boasts a speed of 260mm/s, empowering businesses to enhance efficiency and customer satisfaction.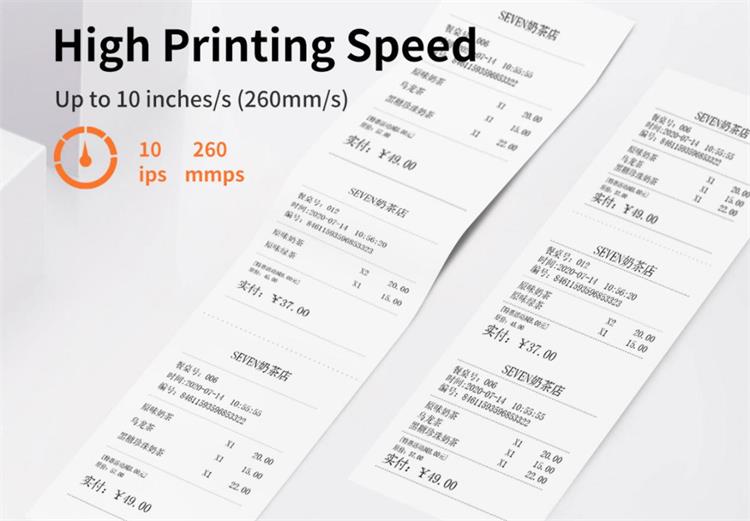 In terms of print quality, we expect the text on the receipt to be clear, organized, free from garbled characters, and aligned correctly. The HPRT TP808 80mm Bluetooth thermal printer not only supports a rich array of fonts and symbols, capable of printing languages and characters from around the world, but it also comes equipped with an automatic cutter. This feature, supporting both full and partial cuts, eliminates the need for manual tearing, offering immense convenience to cashiers and other staff.
● Connectivity Options of Receipt Printer 
Receipt printers come with a variety of connectivity options to cater to different business needs. Common connection types include USB, Ethernet, Wi-Fi, and Bluetooth. Traditional retail setups often prefer USB or Ethernet receipt printers due to their stability and consistent connection. On the other hand, options like wifi pos printer and bluetooth receipt printer offer flexibility.
In dynamic retail environments where mobility is essential, retailers might lean towards mobile receipt printers. For instance, pop-up shops, outdoor market stalls, or businesses that frequently rearrange their store layout would benefit from the adaptability of a wireless receipt printer. 
● POS System Compatibility
One aspect that many retailers inadvertently overlook is the compatibility of their receipt printers with various point-of-sale (POS) systems. Modern receipt printers are often integrated with a plethora of cashier terminals, ranging from touchscreen cash registers to order placement systems, and even self-service checkout kiosks. 
It's paramount to ensure that the chosen receipt printer seamlessly interfaces with these diverse systems. A mismatch can lead to operational hiccups, potentially affecting the customer experience and sales efficiency.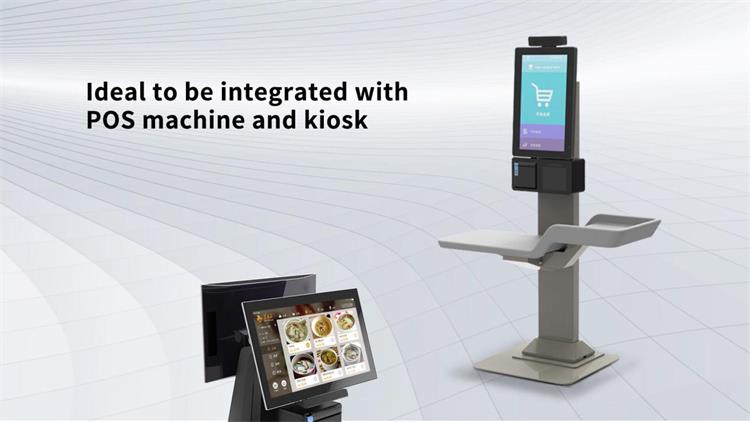 The HPRT TP808 serves as an excellent example. It's compatible with Windows, Linux, and Mac operating systems. Moreover, it can integrate seamlessly with various order placement and cash register systems, making it adaptable enough to be embedded within supermarket self-checkout machines.
● Durability of Receipt Printer
Retail environments can be demanding; your printer should withstand daily wear and tear. The ideal receipt printer should also have a low malfunction rate, minimizing issues like component damage.
● Cost of Receipt Printer
The cost of receipt printers can span a broad range, so it's essential to find one that aligns with your budget. While pricier models might offer additional features, it's crucial to weigh whether you're willing to invest in those extra capabilities.
In restaurant environments, receipt printers have unique needs. Beyond the standard considerations, think about:
● Size and Design of Receipt Printer
Space can be at a premium in some restaurant checkout areas. A compact restaurant printer can be invaluable in such tight quarters. Moreover, a stylish and well-designed printer can enhance the aesthetics of your checkout counter. 
The HPRT TP809 receipt printer is not only compact, being 25% smaller than the average model, but also boasts a chic and modern appearance, fitting seamlessly into upscale restaurant decors. Its colorful LED indicators, which display various printer statuses, are both eye-catching and practical.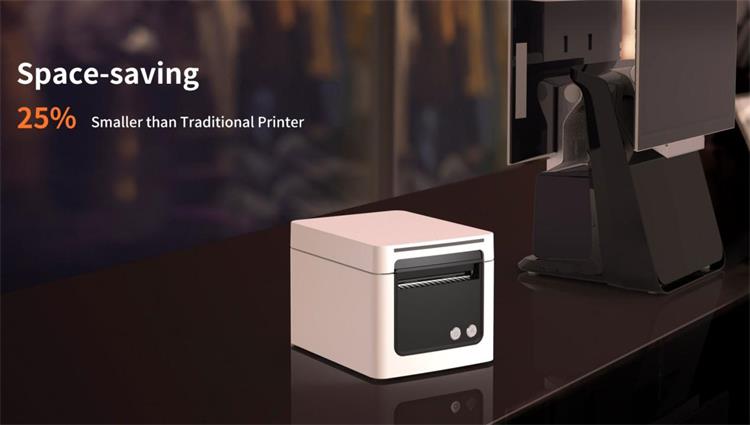 ● Water and Oil Resistance of Receipt Printer
Kitchens are often chaotic environments, characterized by high temperatures, significant grease, and humidity. Thus, restaurant kitchen printers need to be robust enough to withstand these challenging conditions, like waterproof top cover that effectively protects the printer from oil fumes.
● Other Features of Receipt Printer
Some kitchen receipt printers, like the HPRT KP806 PLUS, come equipped with audio-visual alarms, specifically designed for the noisy backdrop of a kitchen. Every time an order is printed, the alarm emits a series of beeps accompanied by flashing lights. This ensures that chefs can promptly receive order details without constantly monitoring the printer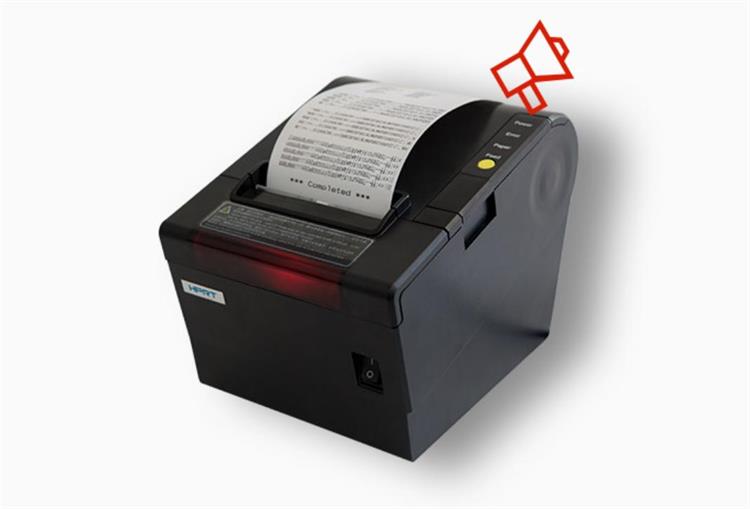 Furthermore, this kitchen ticket printer boasts an error reprint feature. If printing is interrupted due to issues like paper running out or the cover being opened, it will automatically reprint the receipt, marking it as a "reprint."
Selecting the right receipt printer for your store or restaurant is akin to choosing a reliable assistant. It's not just a mere printing device; it serves as a bridge between you and your customers, enhancing the efficiency and professionalism of your business. After delving into this topic, we trust you now have a clearer understanding of how to pick the perfect receipt printer. However, always remember that while technology and features are vital, your final decision should be grounded in your specific needs and budget. As a reliable receipt printer manufacturer, we're here to guide you every step of the way.