How to Print Amazon FBA Labels Using a Thermal Label Printer
In recent years, the e-commerce industry has experienced rapid development, especially with the emergence of giant companies like Amazon, which has become the primary choice for Chinese cross-border e-commerce sellers. If you plan to sell products on Amazon, it is inevitable that you will need to print FBA labels. These labels are affixed to your products to facilitate identification and tracking during warehousing and transportation. So, which printer should you choose, and how should you print the labels? I will answer these questions one by one.
What are FBA barcodes
Amazon FBA labels are product labels with barcodes that contain information about the product, such as SKU and FNSKU. In Amazon's warehouses, these labels are scanned to ensure that the products are handled and distributed correctly. They are an essential identifier for Amazon FBA products to be recognized and placed on shelves in the warehouse.
All Amazon barcodes must be between 1 inch x 2 inches and 2 inches x 3 inches, printed in black ink on white non-reflective labels with removable adhesive.
Thermal label printers - the preferred choice for printing FBA labels
To efficiently and conveniently print FBA labels, most sellers currently use thermal label printers. 
There are mainly two types of thermal label printers on the market: direct thermal printers and thermal transfer printers.
a. Direct thermal label printer: This type of printer uses a heated print head to directly print images or text onto thermal labels, suitable for low volume label printing and some commercial applications. They are easy to operate, have fast print speeds, and low printing costs. However, the use of direct thermal printers requires the selection of suitable thermal paper since the labels printed by direct thermal printers are not heat-resistant, easily fade, and have a shorter lifespan.
b. Thermal transfer label printer: This type of printer uses a carbon ribbon as a medium. The carbon powder transfers to the label paper under the heat and pressure of the print head, displaying the content that needs to be printed. This type of printer is suitable for applications that require high-quality labels.
Since thermal transfer label printers are expensive, complex to operate, and slow in print speed, most sellers choose to use direct thermal printers to print FBA labels. It should be noted that Amazon requires sellers to use labels that guarantee readability and scannability for at least 24 months, which means that the labels cannot be stained or faded during this period. Many sellers choose high-quality thermal paper with waterproof and oil-resistant properties to ensure that the labels can be used for an extended period.
HPRT, as a professional manufacturer specializing in the research and development and production of thermal label printers, offers the N41, a best-selling thermal printer that does not require carbon powder or ink to print labels. With only thermal paper, it can achieve high-speed printing with a maximum printing speed of 4 ips. It is lightweight, portable, and prints clearly, making it perfect for printing Amazon FBA labels.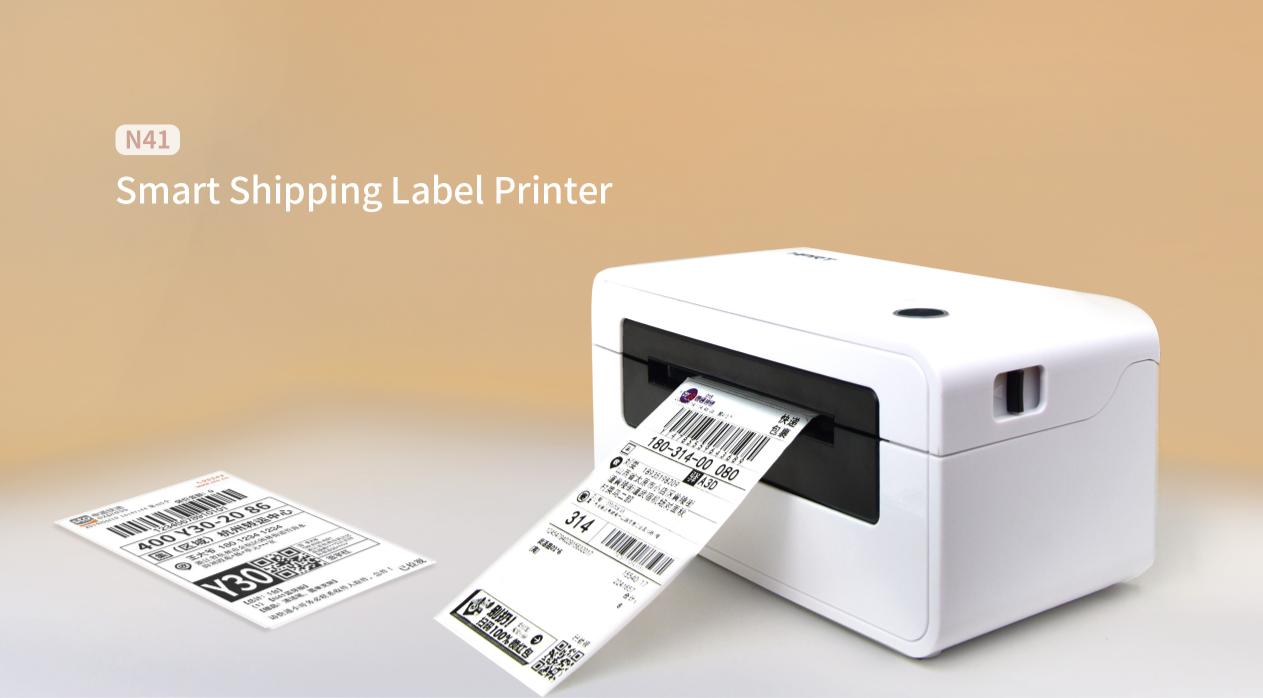 How to print
The following printing steps apply to common non-cloud printers.
a. Before printing, the printer needs to be set up. The specific steps are as follows:
Connect the printer: Connect the printer to the computer or other devices using USB interface or network connection, etc.
Install drivers: Install the printer driver so that the computer can recognize the printer and communicate with it.
Install software: Install printer software, such as label design software or print control software.
b. Print Amazon FBA labels
Before printing FBA labels, the labels need to be generated. 
Users can download a PDF document containing the product FBA labels through the Amazon backend. It should be noted that before downloading, you need to choose the appropriate label size based on actual situations, and the Amazon backend will generate an A4 document corresponding to the label size. Once the labels are generated, printing can begin.
Print settings: In the print settings, select printer, label size, and label material parameters.
Print test: Before starting formal printing, a print test is needed to ensure that the printer and label settings are correct, and the printing quality is good.
Print labels: After confirming that the print settings are correct, you can start printing labels. When printing, make sure that the label paper is correctly positioned, and the printing quality meets the requirements.
Common problem solutions 
When using a thermal label printer to print FBA labels, some common problems may occur, such as poor print quality, label paper jamming, printer connection issues. Here are some solutions to these common problems:
Solutions to poor print quality: If the print quality is poor, it may be because the print head needs cleaning, or low-quality label material is used. In this case, try replacing the label material with high-quality ones or use a special cleaning cotton to clean the print head.
Solutions to label paper jamming: If the label paper is jamming, it may be because there is a problem with the label paper. In this case, check whether the label paper is correctly positioned or replace it with high-quality label paper.
Solutions to printer connection issues: If the printer cannot be connected, it may be because the connection line has a problem. In this case, check whether the connection line is correctly connected or replace it. Also, check whether the printer is recognized correctly.
Conclusion
Choosing the appropriate thermal label printer and label material can improve printing efficiency and quality. At the same time, mastering the solutions to common problems can help you better deal with printing issues and improve production efficiency. If you want to sell products on the Amazon platform, understanding and mastering these skills for printing FBA labels will be very beneficial.
As an excellent system printing solution manufacturer, HPRT's professional fields cover barcode label printing, digital printing, mobile printing, document printing, POS printing, etc. If you are interested in our products, feel free to contact us.