How to Choose the Best Printer for Photographers?
As a photographer, producing top-notch prints is key. These prints not only represent your work but also cater to your clients' needs. In this guide, we'll spotlight key aspects to keep in mind when hunting for the best printer for photographers. We'll delve into things like print size, resolution, and other important features. By the time you're done reading, you'll know exactly what to look for and be on your way to finding that perfect photo printer that helps your photography shine.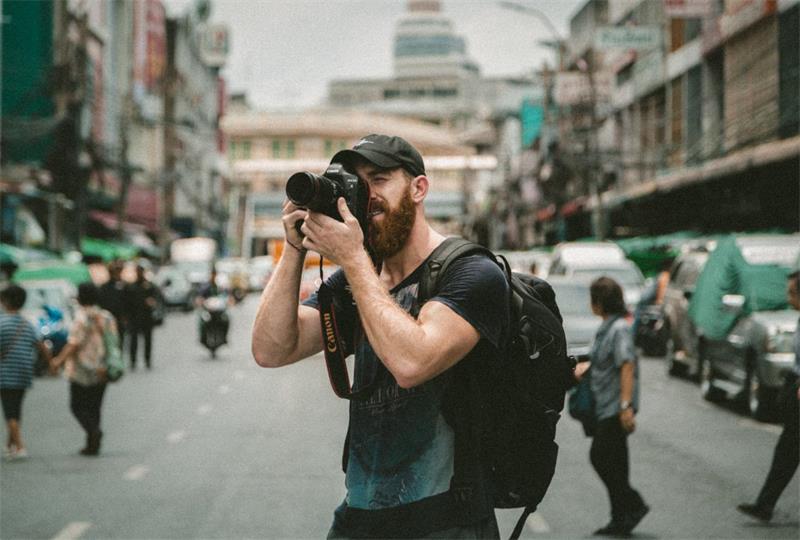 With so many printers out there, choosing the right one for your photography needs might seem like finding a needle in a haystack. But don't worry! Coming up, we'll provide some handy tips and key factors to help simplify your search. You'll be well-equipped to find a photography printer that suits your specific requirements and budget.
Factors to Consider:
1.Print Quality
The quality of prints is of prime concern to photographers, as it directly impacts the presentation of their work. Seek a professional photo printer that delivers high-quality, professional-grade images. Top-notch prints showcase a photographer's expertise and creative style, earning more customers and business opportunities.
Pay close attention to the printer's resolution, color gamut, and ink technology to ensure stellar print results. Resolution determines the clarity and level of detail in the printed image, while the color gamut refers to the range of colors a printer can accurately reproduce. A wider color gamut means richer, more authentic colors. Ink technology directly influences the quality and durability of printed images. High-quality ink produces stable, long-lasting color effects and better resists photo fading and ink bleed.
Of course, popular dye-sublimation photo printers for photographers also excel in photo protection. For instance, HPRT dye-sublimation photo printers CP2100 and CP4100 series dye-sublimation photo printers are equipped with automatic lamination technology, offering dust, oil, and scratch resistance.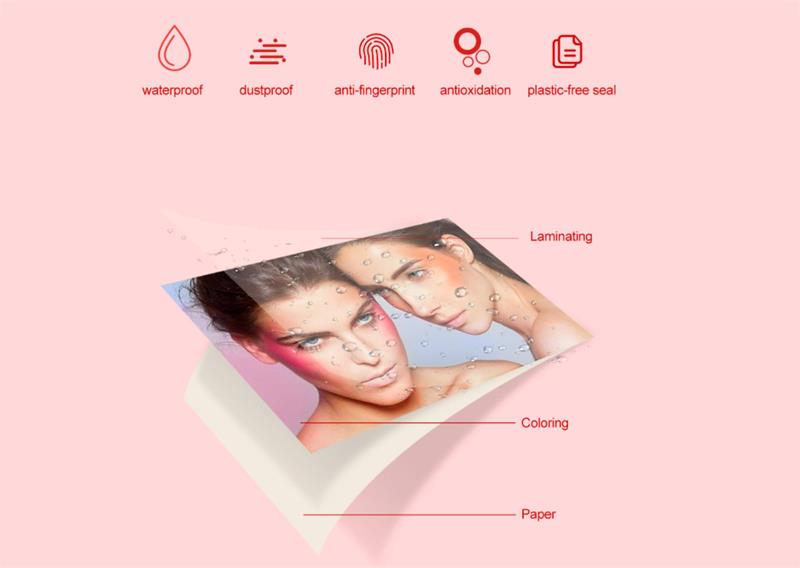 This ensures long-lasting professional-grade protection, preserving the freshness and quality of your photos. Photographers can confidently display and deliver these protected photos, offering customers a more durable and satisfying experience.
2.Resolution & Print Size
Resolution is a critical element in ensuring sharp image prints and producing high-quality photos. When we talk about resolution, it can refer to either image resolution or print resolution. To understand this concept better, you need to delve into related concepts such as pixels and DPI.
Image resolution usually refers to the number of pixels in a photo and is typically measured in pixels, e.g., 1280px x 960px, 3000px x 2000px. Pixels, the smallest units that constitute a digital image, represent a single point in the image with a specific color and brightness value. For instance, a 640x480 pixel photo means that the width of the photo is made up of 640 pixels, and the height consists of 480 pixels. Different pixels combined form a complete image, presenting rich colors and details.
Print resolution refers to the clarity and detail level of an image during the printing process. It represents the number of pixels a printer can output within a unit length, often measured in DPI (Dots Per Inch). Generally, the higher the DPI, the better the print quality. Photographers and graphic designers usually consider 300 DPI as the benchmark for high-quality image prints. Does the pixel size of our photos relate to DPI? Yes, they do, as they determine the size of the printed photo to some extent.
For example, suppose you have captured a stunning landscape photo sized 2400px x 3000px, and your photo printer has a resolution of 300 DPI. In that case, the largest print size you can achieve is 8x10 inches.
We've provided a handy photo size and pixel comparison chart to help you quickly determine the print size:

Clearly, with simple division, you can determine the print size. If you want to print larger photos, the pixel size of the photos you capture should be high enough. Additionally, the desired print size also impacts your choice of printer.
Smaller home photo printers or portable photo printers may not be able to meet the requirements for larger print sizes, such as 5 x 7 inches or 8 x 10 inches.
3.Functionality
Consider the specific features and functions that will enhance your printing experience as a photographer. Some key features to look for include:
Wireless Connectivity & Mobile Printing: The wireless connectivity and mobile printing capabilities of photo printers for photographers allow users to easily print photos directly by wirelessly connecting to devices such as smartphones and tablets, eliminating the need for cumbersome wired connections or file transfers. 
This method provides great convenience and flexibility for users and has become a popular feature in the photo printer market. HPRT 300DPI photo printers CP4000 and CP4100 series both have wireless printing capabilities.
SD Card Compatibility: If you frequently use digital cameras to capture photos, having a printer with an SD card slot allows you to print photos directly from the storage card, without the need for a computer or other devices. 
This makes photo printing more convenient and flexible, easily achievable whether you're outdoors, traveling, or in an environment without a network. At the same time, using an SD card as a storage medium allows for better management and expansion of photo storage capacity, meeting different printing needs.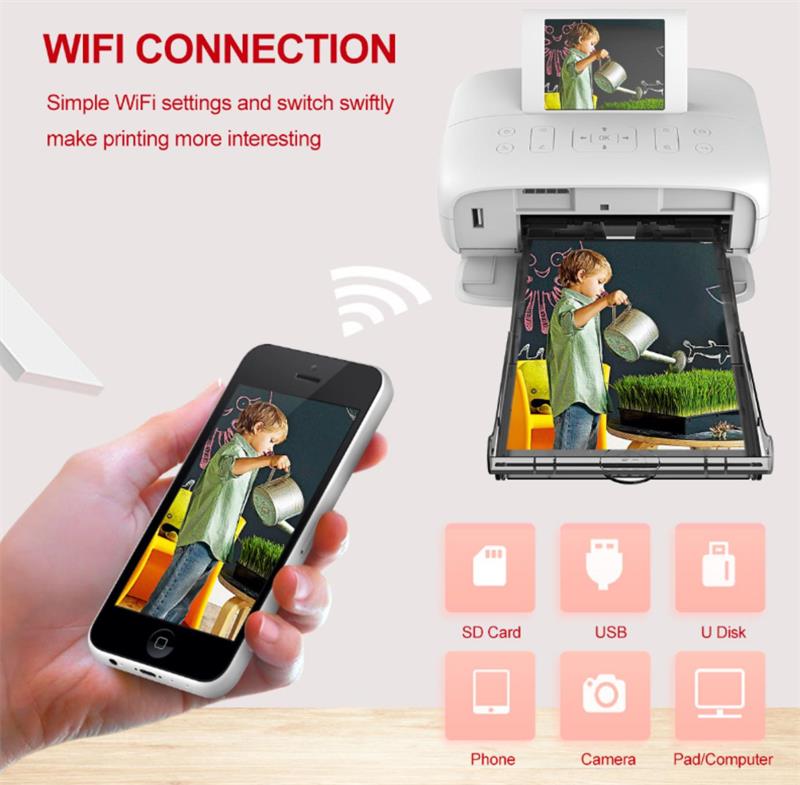 Editing and Color Management Tools: Look for printers with built-in editing and color management features, enabling you to adjust and enhance photos before printing.
1.Portability
Portability is a key factor for photographers who often shoot outdoors. Seek out compact, easy-to-carry printers. These portable printers usually support wireless printing, enabling you to print photos anywhere, making them ideal for events, location shoots, or travel. When choosing, please carefully consider the following questions:
How portable is the printer? Can it fit into a camera bag or backpack?

Does the printer have a built-in battery for printing anywhere, anytime?
2.Cost
Cost is a significant factor that every photographer must consider. Evaluate the initial cost of the printer and the ongoing costs of ink cartridges or printing supplies. Also, consider the cost per photo to ensure it aligns with your budget and printing volume. Before choosing a printer, please carefully consider the following questions:
What is the initial cost of the printer?

What is the cost of ink cartridges or printing supplies? What is the cost per photo?
In addition to the crucial considerations mentioned above, another important aspect to weigh is deciding which type of printer to choose, an inkjet or a dye-sublimation photo printer. These two types are the mainstream in photo printing. Here are their respective characteristics.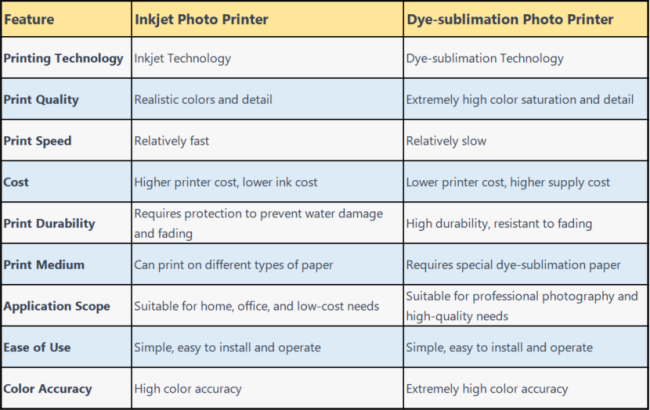 Inkjet Photo Printer: Inkjet photo printers are widely used among photographers and are highly versatile. Compared to dye-sublimation photo printers, inkjet printers have the following characteristics.
First, inkjet printers can produce photos with a higher resolution, making the details crisper and the colors more refined. Additionally, inkjet printers are suitable for a variety of mediums, including different types of paper and specialty materials, enabling more diverse printing effects. Furthermore, inkjet printers offer a wider range of size options and can print larger sized photos. They are extensively used for creating artistic photographs and are perfect for photographers who prioritize print quality and diversity.
Dye-Sublimation Printer: Dye-sublimation printers, such as the HPRT CP4000 , are renowned for their vibrant colors, continuous-tone printing, and exceptional color accuracy. These printers employ a unique dye-sublimation process to print photos, rendering more accurate colors and smooth color transitions, while also being fade-resistant and resistant to smudging.
Dye-sublimation printers are ideal for photographers who need quick, reliable, and durable printing. With technological advancements, dye-sublimation photo printers have achieved pocket-sized portability. Fashionable portable dye-sublimation photo printers like the HPRT CP2100, have gained immense popularity among trend-seeking photographers.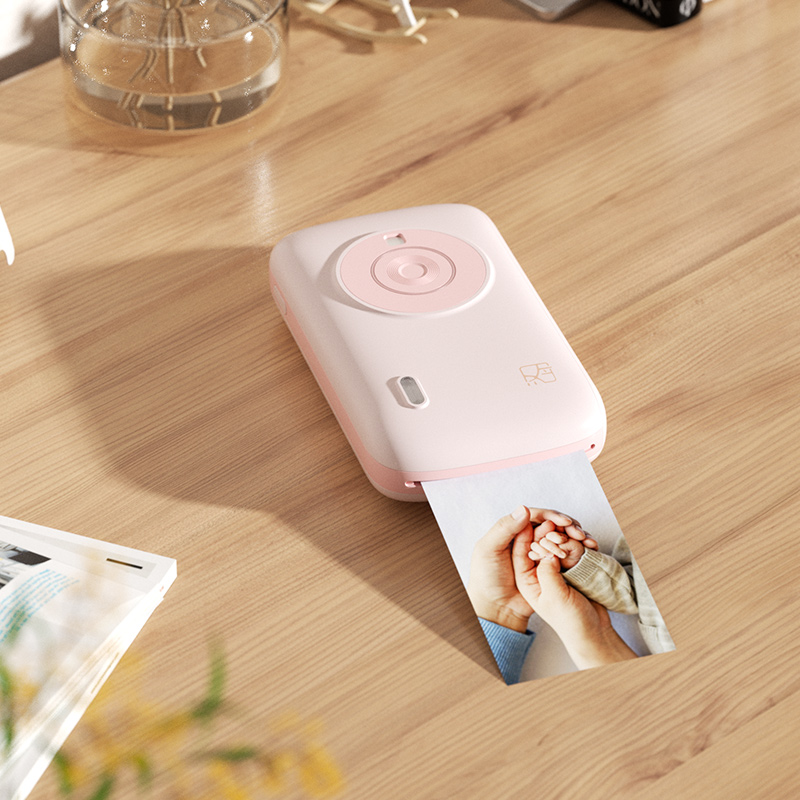 When selecting a photo printer suitable for photographers, it's essential to consider not only the print quality, resolution, and print size but also take into account the functionality, portability, and costs associated with the equipment. In this selection process, HPRT offers a diverse range of photo printer options. By understanding and evaluating your specific needs, shooting style, and budget, you are sure to swiftly find the photo printer that you desire.