HPRT | Your Trusted Supplier of Custom Receipt Printer Solution
In the ever-evolving world of technology, the demand for receipt printers has seen a significant surge, especially in the Western and Asia-Pacific regions. With the burgeoning growth of retail and service industries, the need for efficient and tailored solutions is more pronounced than ever. 
HPRT, your trusted POS printer supplier, profoundly understands the customization needs of our clients, maintaining close connections with various business sectors both domestically and internationally. Through continuous innovation and improvement in receipt printer products, HPRT excels in delivering robust and premium custom receipt printer solutions tailored to a diverse range of customer groups. 
1. Demands for Receipt Printer Customization
The wave of customization has swept across various industries, especially with the push for differentiation in marketing among small and medium-sized businesses. This trend has also highlighted the growing demand for customized receipt printers.
With the rise of customization trends, the market for receipt printers is continually expanding. This growth is not just about meeting personalized and differentiated marketing needs but also includes:
● Diverse Business Needs: Different sectors have unique requirements. For instance, a restaurant printer may require a waterproof design, while a retail store might need a thermal receipt printer for high-speed printing. Customization allows businesses to acquire printers tailored to their specific needs.
● Technological Advancements: As technology evolves, businesses are looking for POS thermal printers that can integrate seamlessly with modern POS systems, mobile devices, and cloud services. Customization enables such integration.
● Branding Opportunities: Some companies opt for customization to incorporate their branding into the receipt machine, thereby creating new revenue streams and expanding their product line.
Receipt printer customization is the process of tailoring receipt printer machines to meet the specific requirements of businesses and brands. This involves not just modifications in design and added functionalities but also encompasses connectivity options, compatible software, and other personalized adjustments.
When B2B customers are searching for suitable POS receipt printer manufacturers for customized solutions, several key considerations come into play, such as brand reputation, technical capabilities, and customization expertise. HPRT, a major billing machine printer manufacturer in China, leverages nearly two decades of technical expertise and robust manufacturing capabilities, making it a significant partner for your receipt printer customization needs.
2. Company Overview
Founded in 2004, HPRT is a high-tech enterprise dedicated to the research, development, production, and service of printing equipment. 
HPRT originally specialized in the research and manufacturing of thermal printer mechanisms. In 2010, we pioneered the introduction of thermal printer mechanisms with integrated cutters in China, marking a significant milestone. This accomplishment played a pivotal role in our designation as a recognized National High-Tech Enterprise.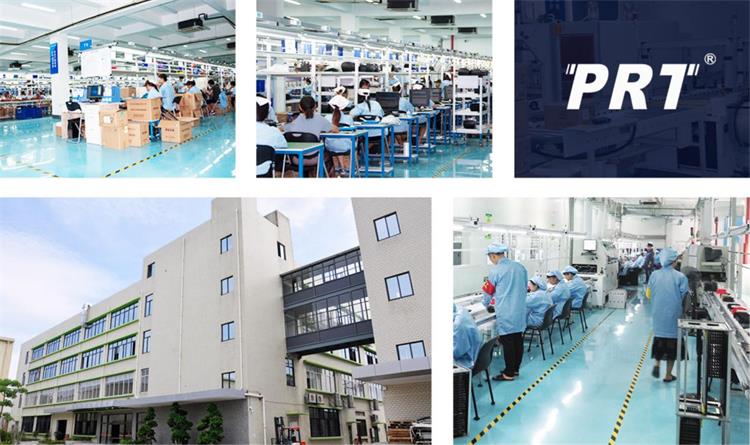 Over the years, HPRT's product line has consistently expanded and evolved, from thermal printer mechanisms to panel printer modules, and further extended to various types of thermal printing equipment, including photo printers and digital textile printing machines. HPRT's products serve multiple industries, covering logistics, warehousing, healthcare, manufacturing, electronics, apparel, and beyond.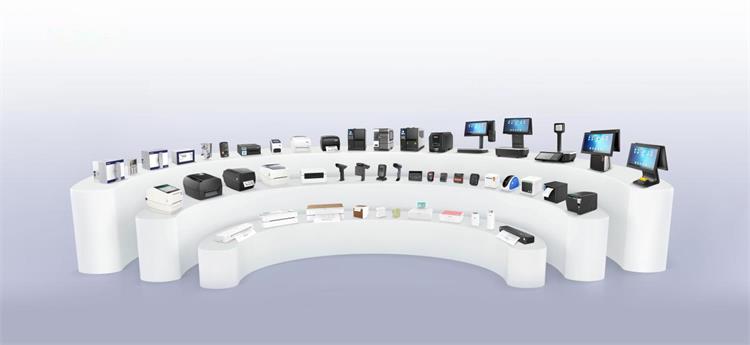 At present, HPRT proudly operates from a state-of-the-art production base spanning 30,000 square meters, equipped with 13 comprehensive machine production lines, and holds an impressive portfolio of over 900 patents. Our workforce comprises nearly 20,000 individuals, including a dedicated team of over 400 specialized R&D personnel. Notably, one in every 3.4 printer mechanism worldwide is produced by HPRT.
3. Why Choose HPRT for Customized Receipt Printer Solutions
In the competitive landscape of receipt printers, HPRT continues to make significant strides. The company has developed and launched a series of feature-rich, high-quality thermal receipt printers, precisely targeting a diverse range of mid to high-end customer segments.
Why Choose HPRT?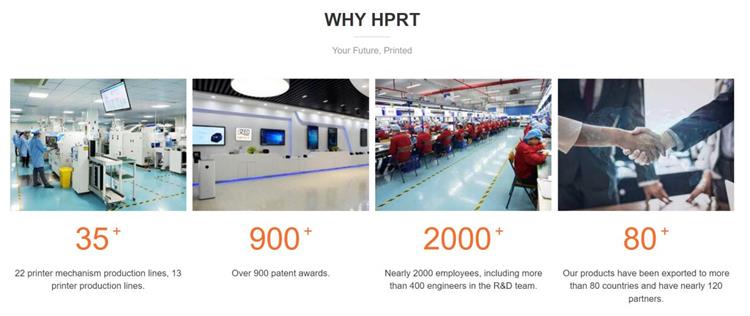 ● Scale and Strength
HPRT has been deeply entrenched in the thermal printing industry for nearly two decades, amassing extensive experience. Particularly in the realm of thermal printer mechanisms, our team has independently developed a variety of cutter-equipped core components. 
Innovative features like dual-cutter designs and easy paper-loading mechanisms have been widely implemented in POS thermal printers, significantly elevating the user experience. These advancements fully demonstrate HPRT's strong standing in technological innovation and product quality.
HPRT boasts multiple assembly lines for complete machines as well as 22 printer mechanism production lines. This solid manufacturing foundation ensures that HPRT can reliably and efficiently handle large-volume orders.
● Customization Capabilities
HPRT boasts a robust R&D team capable of swiftly responding to diverse customer customization needs. This includes the color, dimensions, and logo appearance of the POS receipt printer, as well as interface customization. 
Special features like waterproofing, oil resistance, wear resistance, and high-temperature resistance can also be tailored. Additionally, we offer software and driver customization, as well as localization according to industry standards in the customer's location.
● Product Diversity
HPRT's product line caters to various sectors, including food and beverage and retail POS. The range includes high-quality series like TP808 and TP809, KP806PLUS multi-functional kitchen printers, mobile receipt printers, and cloud printers. These printers support various print widths, such as 58mm and 80mm, and some models can even be seamlessly integrated with touchscreen POS systems and supermarket self-checkout machines.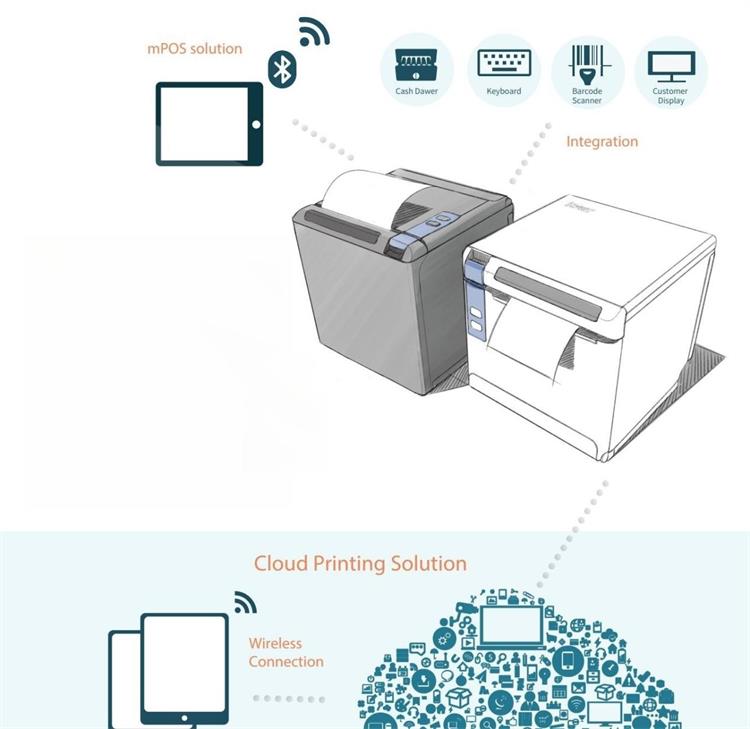 For instance, the 80mm POS printer TP808 is versatile, suitable for both small shops and large supermarkets, as well as restaurant front desks. Its printing speed reaches up to 260mm/s, efficiently handling various printing tasks.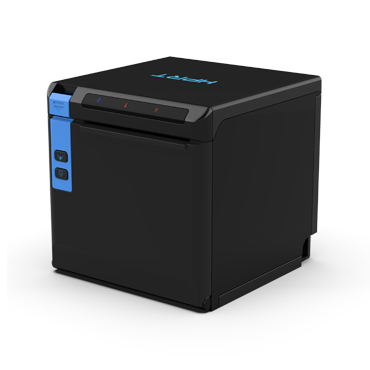 The thermal receipt printer's compact design accommodates both top and front paper exits, making it adaptable to different space requirements. It is compatible with 58mm and 80mm paper roll widths, ensuring easy printing of rich menu information and transaction details.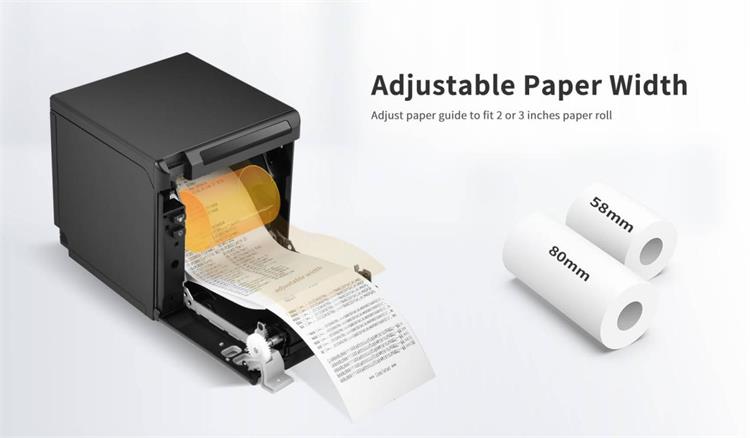 The Bluetooth thermal receipt printer features a full-metal printing mechanism structure, coupled with large gears and motors, ensuring a stable and quiet printing process. Its dual-cutter design offers options for full or partial cuts, effectively eliminating uneven wear on both sides, and thereby enhancing durability. Optional Bluetooth and WiFi connectivity provide added flexibility.
● Pricing Advantage
By adopting an integrated approach to production and sales, HPRT eliminates the need for middlemen, thereby offering enterprise customers cost-effective POS printer price options. This enables clients to access high-quality products at a reasonable cost.
● Supply Chain Management
HPRT has established close partnerships with upstream suppliers and has implemented a comprehensive, effective, and practical supplier management system to address pain points across the supply chain, ultimately achieving cost reduction and efficiency gains.
HPRT consistently adheres to core principles in supply chain management, focusing on "customer needs, reliable quality, timely delivery, cost control, and social responsibility." 
At the successful conclusion of the HPRT 2023 Supplier Conference held in June, HPRT and our suppliers engaged in in-depth discussions on existing issues, collectively reviewed the cooperative journey of the past few years, and looked forward to continuous, steady improvements in customer satisfaction, development efficiency, and product satisfaction in the future.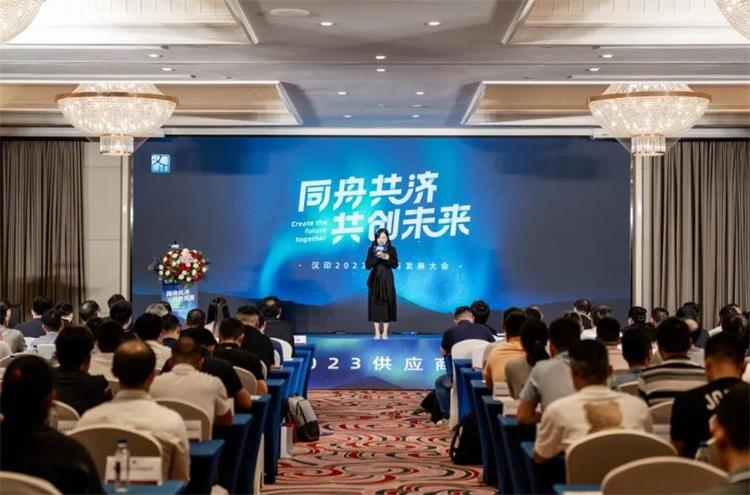 ● Customer Service
HPRT places great emphasis on customer service, providing responsible after-sales support and promptly responding to customer needs and issues. Our professional service team is always customer-oriented, ensuring that every client receives satisfactory solutions and service experiences.
Choosing HPRT, a strong and reliable receipt printer manufacturer, means opting for professional, reliable, and efficient printing solutions, including custom receipt printer options. Our goal is not merely to meet your immediate needs but to collaboratively explore future possibilities, create new market opportunities through receipt printer customization, and jointly author a successful chapter in your business journey.